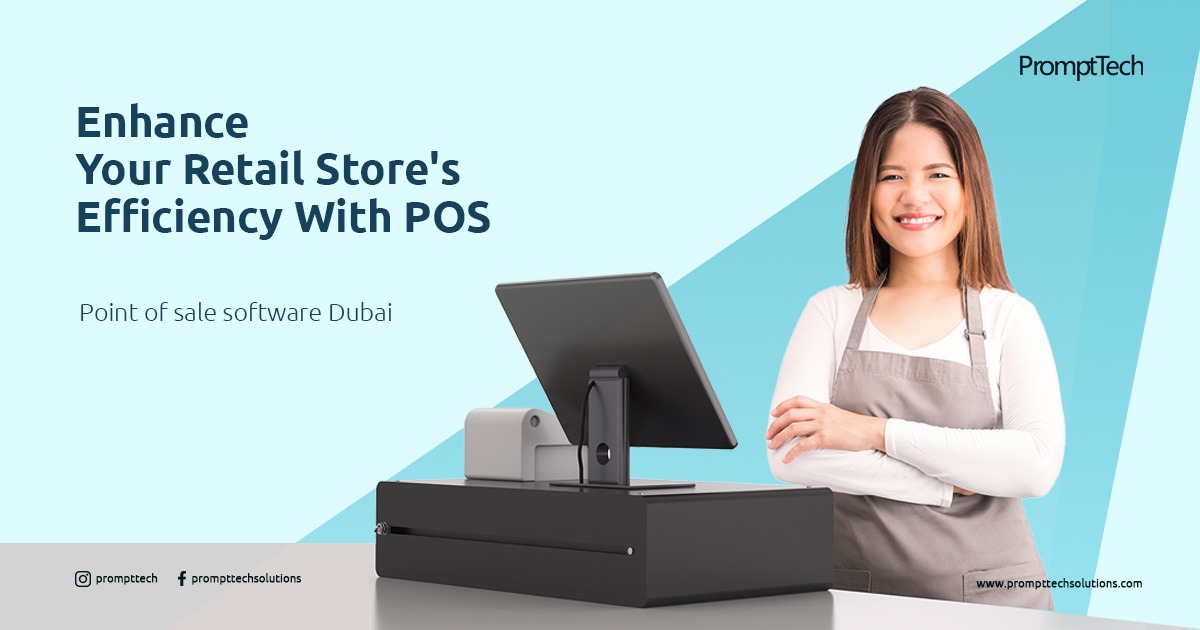 Choosing a Point of Sale Software Dubai which is right for your Retail business is vital to its successful implementation. If, for instance, you have PromptTech's hardware in your stores, you may want to find a solution that enables you to prolong the lifetime of that technology while allowing you to add new features – like mobile payments.
Or you may be lucky enough to be able to invest in new POS terminals so that you can take advantage of consumer technologies like tablets, desktops, and smartphones. It is essential that your POS solution is intuitive and will work regardless of the technology powering it.
The objective is to make the final purchase experience easier for customers at the end of their shopping experience. Even if you have store staff available to answer questions and made products easy to locate, if there exist major hiccups right before they pay, it's enough to entice customers to abandon a purchase.
Let's take a look at three key aspects of Point of Sale Software Dubai that make it more efficient, no matter the Best POS System in UAE you use.
Inventory and Employee Management
It is important to have proper employee management tools to monitor employee attendance and to compute commissions on the basis of sales achieved by each employee if they receive commissions. Afterwards, the data can be automatically imported into your payroll system.
Visibility of all inventory levels across your enterprise is a crucial POS characteristic if you need to optimize inventory levels and minimise expenses related to out of date or unsold inventory. Whenever you order an item in excess that doesn't sell, your money is wasted. By using PromptTech's software, you can increase the accuracy and control of your in-store inventory management activities, reduce stock-out situations and handle your in-store replenishment with a robust alerts system that lets you know regarding inventory levels instantaneously.
To help you get a better understanding of your inventory in every store and warehouse, you can take advantage of the mobile inventory management feature to keep an eye on in-store stock movements or physical stock.
Sales Reporting and Analytics
If you want your retail business to succeed, strong sales reporting and analytics are vital. If you're specialised in seasonal items or want to find out what's trending, you can track how well specific products are selling.
The analytics and reporting capabilities of the Best POS System in UAE allow you to gauge store productivity, run cash-up and discount analyses, and let your store managers access KPIs right from their bespoke workspace.
Retail POS System Proficiency
Every retailer needs a retail POS system that has industry-specific features. There are a number of capabilities for the Best POS System in UAE available for retail stores, such as:
Monitoring the shopping behaviour of customers through the creation of customer profiles for new orders.
Using barcodes/names as a search tool for products.
Keeping sales and collection up to date.
Managing employees via performance evaluations and assignment of tasks.
Analyzing previous orders by utilising filters such as category, time duration, or customer. Businesses can choose from on-premises POS solutions, mobile versions for on-the-go sales, or cloud-based solutions to handle a variety of channels. A key edge of the Best POS System in UAE is that it guarantees flawless operations and faster services. Next, it knows trends and performances while enhancing general store efficiency.
Final Thoughts
A retailer must consider each step of a customer's purchasing journey. If making a purchase isn't easy; a customer can quickly lose interest. It's essential to deliver a superlative customer experience for your customer, and it's all possible with the Best POS System in UAE. 
About PromptTech
Based in Dubai, PromptTech is a provider of the Best POS System For Restaurant Dubai. As a group of tech and marketing experts, we create and innovate. Over the years, we have carved a niche in software development, digital branding, web solutions and mobile applications and has garnered the trust of SMEs across the world. No matter what industry you're in, PromptTech's POS Solutions has you covered, with offerings such as Best POS System For Restaurant Dubai, Laundry, Salon, Van Sales, and Real Estate. We understand the cutting edge technologies of the future and can act as a catalyst to transform the business of our clients!