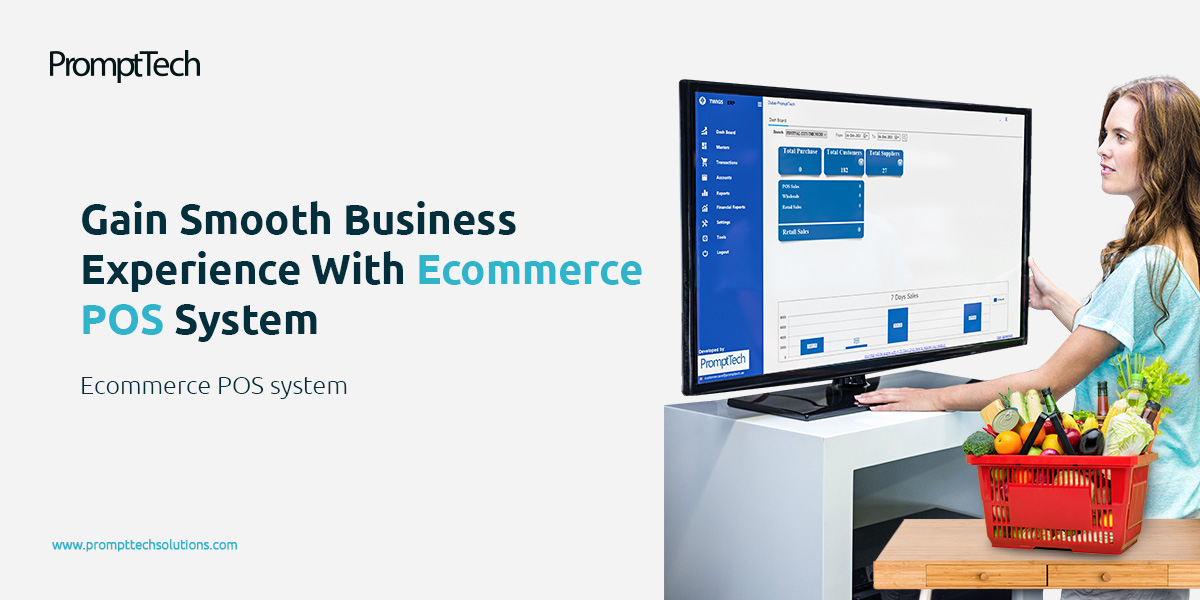 Gain Smooth Business Experience with Ecommerce POS System
As e-commerce expands at an unprecedented rate, retailers recognise the significance of adopting a true omnichannel sales strategy. In the current environment, consumers expect seamless experiences across all channels, including online, in-store, and mobile. Therefore, retailers must integrate their e-commerce platforms with retail point-of-sale (POS) systems to create a seamless consumer journey and maximise sales opportunities.
This article will discuss the advantages of integrating e-commerce platforms with point-of-sale (POS) systems and how it can help retailers meet the needs of modern consumers while increasing their bottom line.
What is POS Integration with ECommerce?
Ecommerce POS system integration combines e-commerce platforms and retail POS systems to create an omnichannel purchasing experience. Integrating these two systems allows all the business's sales, inventory, and consumer data to be synchronised and accessible from a single source.
POS Integration with E-commerce Benefits
The Seamless Shopping Experience from Online to In-Store
Integrating your e-commerce platform with your POS system enables you to sell in-store and online simultaneously. Customers can begin purchasing online and complete it in-store, or vice versa. This adaptability increases sales opportunities and improves the overall purchasing experience.
Keeping Pace with Demand to Profit from Real-Time Inventory Updates
Inventory management is crucial for any retailer, but it becomes even more important for those who conduct in-store and online transactions. Using the same database, you can utilise POS integration with e-commerce update inventory and ensure a single source of truth. Real-time inventory updates are essential for offering a buy-online-pickup-in-store option, ensuring customers' ordered items will be available when they arrive.
Streamline Your Company's Operations with Automatic Data Synchronisation
Inputting information manually is time-consuming and error-prone. A point-of-sale ecommerce platform enables you to automatically synchronise data updates and administer them in a centralised location. When you no longer have to manually reconcile data, you can employ the time you save to optimise other crucial business areas.
Utilising Customer Data to Drive Sales for Targeted Marketing Strategies
You can gain insight into omnichannel customer behaviour with all your customer data in one location. Ecommerce POS systems platforms enable you to collect data from in-store and online sales and obtain insights without separate systems. You can use this information to improve the effectiveness of your marketing and recommendations.
Creating a Smooth Customer Experience
Customers anticipate a consistent purchasing experience across all channels. You can provide this experience by integrating your POS and e-commerce systems. Customers have multiple payment options, can place orders without difficulty, and can participate in loyalty programmes without interruption. Providing a unified experience can strengthen your consumer relationships and encourage repeat business.
How Does E-Commerce POS Integration Work?
Depending on the starting point, several methods exist to integrate e-commerce platforms with retail POS systems. If a company has an online store but no POS, it must select an e-commerce POS system compatible with its e-commerce platform or choose a partner or service provider who can construct the integration. If a business does not have a point-of-sale system or an online store, it can select an e-commerce platform and POS system with pre-built integrations.
Choosing the Best Ecommerce POS Integration
Building scalable solutions for e-commerce POS systems can be difficult and requires knowledge and experience. Partnering with a provider specialising in POS integration with ecommerce and offering a flexible integration infrastructure to connect to third-party systems such as POS and ERP is recommended for enterprise-level ecommerce requirements.
Conclusion
In today's retail environment, creating a seamless omnichannel experience is essential. The Ecommerce POS system integration facilitates this by synchronising sales, inventory, and consumer data across all channels. With simultaneous sales, real-time inventory updates, automatic data syncing, customer data utilisation, and an enhanced customer experience, businesses can provide customers with a seamless purchasing experience. Choosing the correct ecommerce POS integration partner is essential for developing scalable solutions that propel businesses forward.