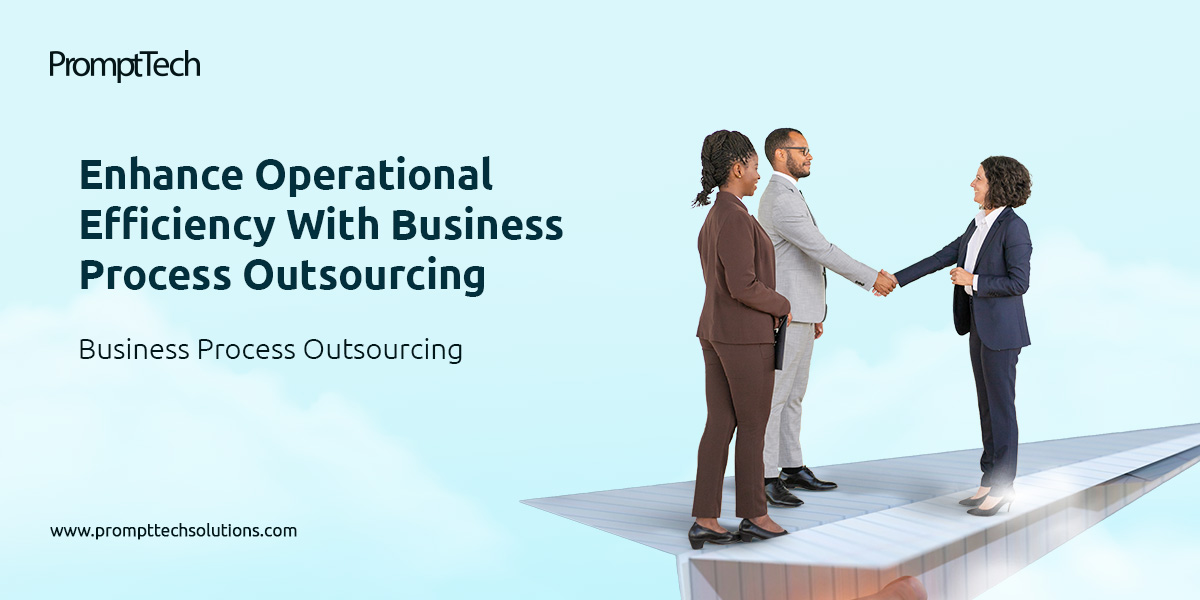 Enhance Operational Efficiency with Business Process Outsourcing
Running a business successfully requires you to provide the best customer experience possible. Finding an effective way to balance your core business activities and non-core business activities can be puzzling. Outsourcing non-core activities in this intensely competitive business environment can take a huge load of weight off your shoulders enabling you to focus more on the core activities and thereby scale your business operations and run them as smoothly as possible. Business process outsourcing will not only help you provide the best customer experience but will also save you time and help to cut down on costs.
Enhance your workflow and improve business performance with PromptTech's outsourcing services. Make your life easy by outsourcing the best expertise and capabilities from us. The following business functions can benefit from our services.
Invoicing
Payrolls
Data entry
Payment collection
Accounts
Telemarketing
Human Resource departments
Administrative Tasks
Some of the various services you can enjoy by outsourcing your business process are explained below.
Back-office Operations
Outsource efficient and experienced manpower and technology to support your back-office operation from PromptTech.
Back office operations consist of laborious administrative tasks. You can manage them easily by outsourcing back office services from the best outsourcing company. You can increase operational efficiency, cut down on costs and increase competitive advantage by outsourcing back office operations. Back office outsourcing services typically consist of non- client facing services such as payrolls, administrative tasks, accounts, data entry and so on. Various benefits of outsourcing back office operations are more flexibility, focus on core business efficiently, access to new technologies and skilled manpower, reduced risk and ensured quality.
Data Entry
Outsourcing data entry services can be very economical for your business. It will help you save money on hiring an in-house data entry specialist and invest in your core business operation. By outsourcing data entry services from the best outsourcing company you can increase and decrease the manpower required to complete the task in accordance with the number of documents you need to digitise. This ensures the same speed and accuracy every time while providing excellence and minimising costs.
At PromptTech we provide precise and timely data entry services for you. Our qualified data team uses the double-keyed method and provides both online and offline data entry services from any electronic format or handwritten document. Our data entry services consists of the following categories
Document Preparation
Invoice booking
Online data entry services
Insurance data entry
CRM data entry
Real estate data entry
Tele calling Services
Telemarketing is an excellent method to build strong bonds with customers and lead generation. Outsourcing telemarketing helps you to maintain your current customer base and attract new customers to your business. You can save the extra amount spent on expanding your sales team by outsourcing telecalling experts. Also with outsourcing, you can get a customised team with the number of staff and amount of time required specifically for the project thereby ensuring flexibility every time.
Telemarketing services are provided by PromptTech as part of our business process outsourcing services. Promote your business and engage with potential customers with telemarketing services customised for your needs. We help you with lead generation, expanding customer base, increasing conversion rate, improving business and client relationships and more.
Account Specialists
Complete the accounting and finance function of your organisation by outsourcing the accounting department's work. You can get access to skilled accounting professionals and focus your time, energy and resources on other activities like building networks and enhancing the customer experience by outsourcing accounting services. Therefore you can get efficient accounting services and the best financial advice by outsourcing knowledgeable and reliable experts to your accounting department. You can easily achieve business goals by outsourcing accounting services suited for the requirements of your business.
At PromptTech we provide accounting experts who can assist you with a range of different functions including bookkeeping, tax filing, payroll services, accounts receivable management and more. Streamline the hiring process, reduce hiring costs and benefit from automation technologies by outsourcing accounting services from PromptTech.
Conclusion
Business process outsourcing is the practice of hiring an external business service provider for managing essential business functions. The best outsourcing company provides you with a talented pool of expertise and resources for meeting your business needs so that you can easily focus more on your core business activities. PromptTech provides the following Non-IT outsourcing services for your business
Data entry
HR experts
Payroll services
Telemarketing
Admin executives
Customer service executives
Scale your business operations and acquire competitive advantage with the help of PromptTech's business process outsourcing services.