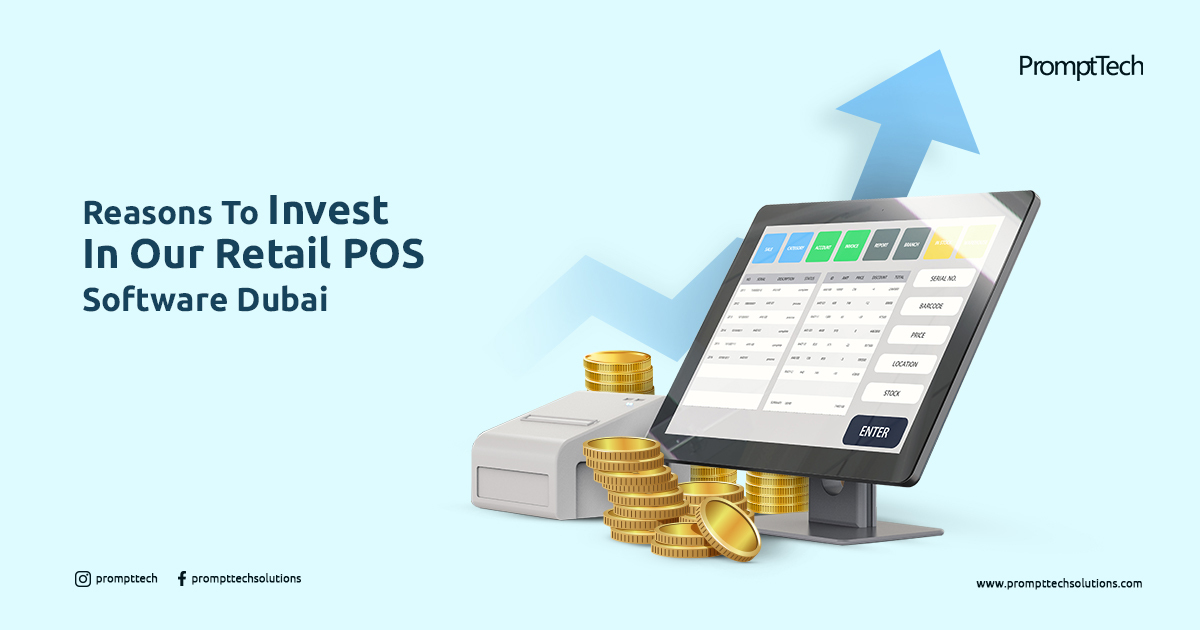 Reasons To Invest in Our Retail POS Software Dubai
Those who run retail businesses understand the necessity of a proper Retail POS Software Dubai. You don't want customers waiting around while employees manually input purchase details into the software.
A modern POS software for retail can help retail owners stay ahead of the competition and increase sales. Investing in a POS Software Solution is regarded as one of the best decisions you can make for your business.
However, good point-of-sale software does more than just manage payment and record sales. But it will also help with:
Tracking what's selling and what's not.
Using data to make better decisions
When selling products is at the core of your business, good POS software is imperative. Meanwhile, for a small business retailer, a dependable POS software solution is essential. Discover how they make your business more efficient:
Streamline Inventory Management of Retail POS Software Dubai
Inventory management is a standard feature of our Retail POS Software Dubai. You can use this information to determine which are your top-selling & bottom-selling items.
It seems easy, but it's very important. In fact, retail businesses risk revenue loss with excessive and insufficient stocking of inventory. Indeed, further analysis of the data will reveal which products sell the best when, where, and at what price.
By doing so, you can refine the inventory management process. Your best-sellers will never go out of stock, and there won't be room wasted on non-selling items. The right POS software, along with the best POS system, will also allow you to:
Analyse each product line's profitability.
Find out whether price and volume are related, to maximise profitability.
Determine the best time and quantity to order stock.
Improve Employee Management by Taking Control
Individual employees can track their sales with PromptTech Retail POS Software Dubai. Certainly, the employer can keep track of the performance of the sales team.
Besides, the employees can keep track of their own sales numbers. With this, employees gain a better understanding of their personal sales goals.
PromptTech Retail POS Software Dubai can be used to determine opportunities for boosting sales, like by betterment of customer service.
Retaining Consistency For Stores With Multiple Locations
Do you run multiple outlets throughout various locations? Do you wish to streamline your product line across all stores? Then PromptTech POS software can prove to be very helpful. A multi-store retail business's biggest challenge is keeping prices consistent.
If all the stores share a similar database of products, our solution allows multi-location businesses to deal with the inconsistency problem. A store owner can access the product database to update inventory, raise prices, and more.
Access Business From Anywhere With a Cloud POS
Imagine taking your business anywhere you want. There is no reason why that cannot be achieved. PromptTech Retail POS lets retailers access their store data wherever they are, whenever they want. This can be done by logging in to their administrator account.
Your shop's real-time activities are accessible whether you are at home or on the move. Thus you can track ongoing transactions, track inventory, and access sales data without having to visit your stores.
Obtain Real-time Reports and Data
It's all about data. Having the right insight and intuition isn't enough to run a lucrative business. It is imperative that your numbers and data are accurate in order to create effective strategies and make informed decisions.
Consider this situation:
No data: It appears that this week you need more cheese, so you order 100kg. The result is that you overspend and waste money.
With some data: Your report lists the amount of cheese you need to order this week as exactly 50 kg. Without wasting money, you buy exactly what you want.
Retail POS such as PromptTech TWIGS gives you access to real-time data. This allows you to boost sales and profit by making informed business decisions.
The software stores all the information you require, so you do not have to manually check to find out which item is the most popular. An analytic feature in PromptTech Retail POS Software Dubai provides useful info like:
Items with the highest sales
Items with the lowest sales
The busiest hours
The non-busiest hours
Low inventories
With the help of the analytics your software offers, you can decide which products require restocking, the time to turn on off-peak hour promotions etc. Small to medium-sized business owners will have to pay attention to all of this stuff if they want success.
Task Automation
Using automation can greatly increase efficiency and accuracy. If you choose the right POS, you can automate operations like scheduling personnel and managing inventory. If you wish, you can set up a system that will notify you when supplies run out or employees are about to work overtime. As a result, monitoring stock levels is made simpler and prevents problems such as stockouts and dead stock.
Using online ordering channels and creating low-stock alerts can further help you save money. Certain POS software solutions will have powerful features including predictive analytics and vendor management.
How a Retail POS Software Dubai Can be Beneficial to Customers?
Retail owners find it easier to manage the complicated accounting process with Retail POS software.
Customer past transactions are easily accessible.
Automate ordering
Fast authorization of transactions is possible.
Customers can get detailed receipts for purchases from you
Prevent the possibility of errors thanks to the software's extensive in-built checks for accuracy
Final Thoughts about Retail POS Software Dubai
Ultimately, POS software solutions let smaller, independent businesses run as efficiently as much larger corporations. It might be more beneficial than you think to invest in POS software. Choosing the right retail POS software can skyrocket your sales!
About PromptTech
PromptTech is an IT solutions provider based in Dubai, United Arab Emirates, with a Global Delivery Hub in India. Our expertise lies in providing comprehensive IT services and IT solutions to brands and companies worldwide. Some of our business offerings include Web and mobile app development, IT & Non-IT outsourcing, digital marketing, software development and more.
Click here to contact us