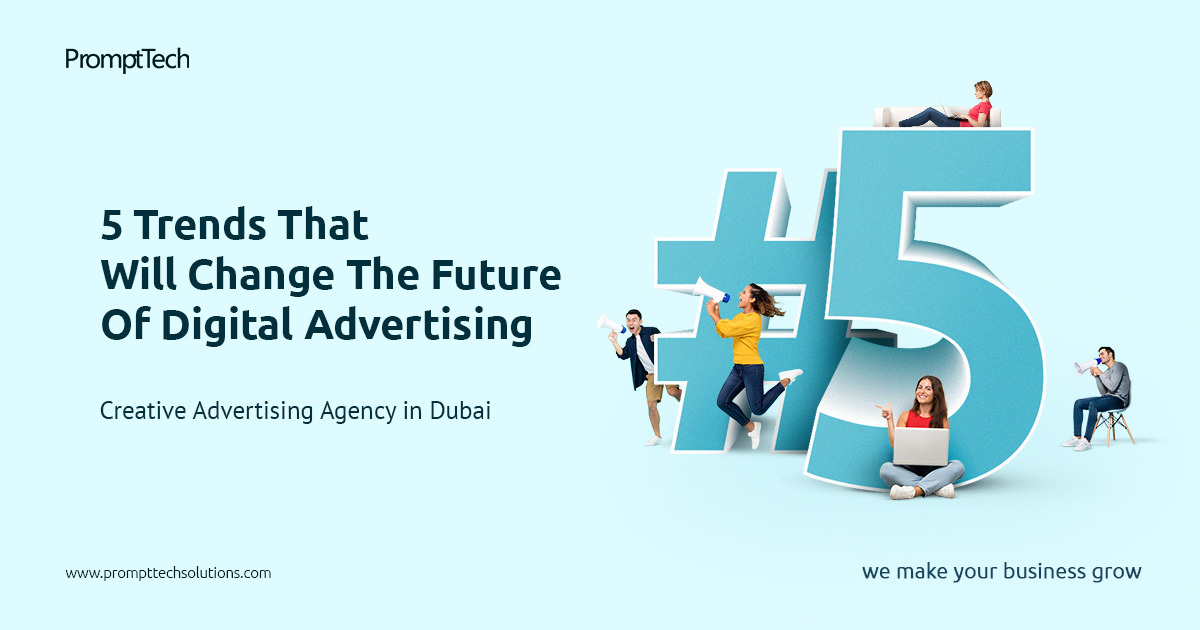 Everything in life undergoes change. Keeping up with the latest trends is always the way forward. Like in the words of the great scholar Socrates, "The secret of change is to focus all of your energy not on fighting the old, but on building the new." Digital advertising is one such emerging field. Digital advertising refers to the process of marketing through online channels such as social media, websites, mobile applications, and the likes. With the advancement of the internet, marketers are vying on scaling their ROIs with the new online advertising platforms.   
For many entrepreneurs, SME business owners, and Digital marketing experts this change in trend has proved to be beneficial. Creative digital advertising has a vast scope as it caters to every activity of the user on the digital device or web. As Digital advertising is gaining competition, it is important to know the top trends to stay ahead.  
Here are the top 5 trends in digital advertising
PPC along with other marketing channels
Automation is becoming common in many businesses and PPC marketing is no exception. The extensive use of Artificial intelligence and Machine learning has influenced the way businesses to take care of their brand. Automation helps in formulating effective campaigns as it helps determine how goals can be achieved in each campaign. But leaving everything to automation is not a wise decision. Building your business presence on multiple channels is essential to staying ahead of your competition. Social media and SEO are all important but one must always look out for any new opportunity along the way.   
Social Advertising
Creating a social media presence has become the new norm for businesses. With various advertising platforms, the kind of competition has also advanced. Since the onset of Covid 19, usage of social media has increased immensely. This has led to a boost in the reach of social media advertising and the medium has gained the market's spotlight. This is a unique platform where you can have both organic content and paid advertising which helps in deriving greater traffic to your website. With well-planned campaigns on social media, businesses can reap greater success as the reach of the platform is phenomenal.   
Display Advertising
For most Digital marketers Display Ads have for sure been the best tool for creative digital marketing. Display ads consist of graphics and other visual content. It could be text-based, audio, video, or image. These ads are displayed on Websites and Social media networks to attract people into taking the desired action and enhance brand awareness. Display advertising is used commonly in programmatic advertising and retargeting campaigns. It is a great platform to gain attention from customers who have previously left our site without taking any action.
Mobile-first Advertising
In the current times, there has been a steady rise in the number of mobile users. An average person spends almost 70% of his awake time on their smartphone. This is well noticed by marketers and mobile devices have become a great platform to reach out to wider audiences. With a strong user base, mobile phones have created a rich environment for M-commerce. Another upcoming trend is the integration of augmented reality. Augmented reality will allow users to bring virtual items into the real world through smartphone cameras. This will provide users with a better understanding of how the product will be in the physical world around them.
Programmatic Advertising
Programmatic advertising refers to the use of Artificial Intelligence to automatically purchase ads and optimize digital campaigns. It is designed to replace human negotiations with machine learning. The intention is to increase transparency for both advertisers and publishers by buying ads at the same time as the visitor loads a page. It is one of the powerful methods of advertising used at present. With Programmatic ads, you can reach out to a huge volume of targeted audiences and can effectively boost Brand awareness.
Conclusion
This shift in advertising trends seems to look promising and has great scope in the near future. The competition will grow tougher as consumers today have become very selective about what they want. It is not an easy task to convince users and convert businesses into successful ventures. But be sure that by staying updated and following the best practices of advertising you can create an edge for yourselves.
At PromptTech we provide you with top-notch digital marketing solutions. We keep a close watch on changing trends and implement them to stay ahead of the competition. We have a great team of digital marketers who are creative and amazing problem solvers. Feel free to approach us for any of your digital marketing requirements.