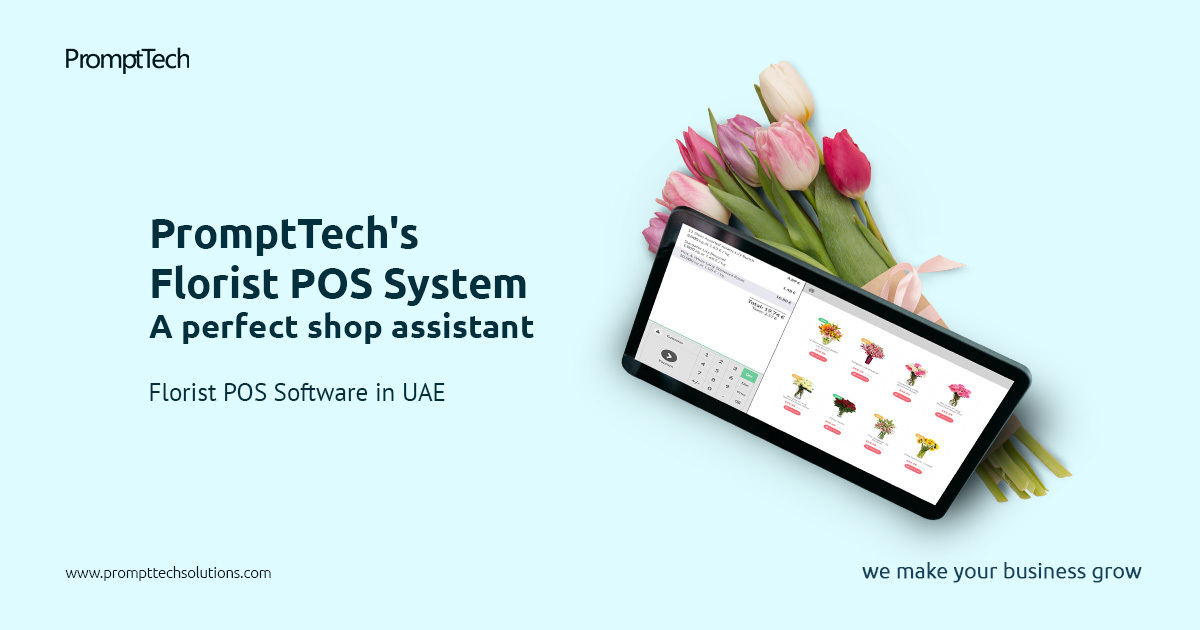 Flourishing a flower shop like any other business in the present times is not an easy job. They have to juggle between handling business operations and management of staff and customers among other things. To top it all, the rising competition has pushed Business owners to go the extra mile in everything they do.
Modern day problems need modern day solutions. Flower shops in UAE can now think smart and multitask efficiently with PromptTech's Florist POS System. Our POS systems are one of the best in UAE and will allow you to manage shop inventory and accounts without a hitch. It is easy to install and simple to use.
Let's see what PromptTech's Flower shop POS Software has in-store for you:
Inventory and Accounts management
Say goodbye to managing tons of files and papers. All new paperless POS  systems can assist you track your flower shop merchandise and stock purchases/maintenance. Generate inventory, sales, accounting reports and also receive them automatically by email at the end of each day. Manage cash flow and other financial undertakings effortlessly. 
Stock Maintenance
With PromptTech's Florist POS system, restocking your inventory is hassle free. You can view the movement of products and identify fast moving items and restock them in time.
Invoice and billing solutions
Reduce your bill printing costs with digital billing facility and automatic invoice email notifications to customers. With high quality display and highly responsive screens, it is so easy to navigate and select items of purchase for billing.
Subscription order and Delivery Management
Gone are the days when you had to worry about remembering orders and scheduling them manually. Now no more delay in fulfilling your orders on time. With our flower shop Point of Sale System  you can now schedule subscription orders and manage their delivery systematically. 
Product Package
Customers can be very particular about their selections. They might at times want to try various combinations of not only flowers but also mix up products. With our POS systems bundling products from various categories can be done with ease. After all, customer satisfaction is our common goal.
E-commerce Site Integration
You can seamlessly integrate your e-commerce website with your store activity. All on one device – PromptTech's POS for flower shops. All payment collection and report generation can be achieved through this software.
Multiple location management
For businesses who operate more than one store, managing multi-store operations can be difficult. By installing our Flower ShopPoint of Sale  system, you can handle operations of all stores in a single device. 
Customized Barcode
By getting customized barcodes for your products you can save time and reduce human errors. Scanning barcodes are faster and easier than manual entry of data. Barcodes can be used not only for pricing but also for tracking and inventory purposes.
In Brief, investing in a Flower shop management system will prove to be profitable for your business. PromptTech's Florist POS system has been making life easier for many small and growing Flower shops in the UAE.