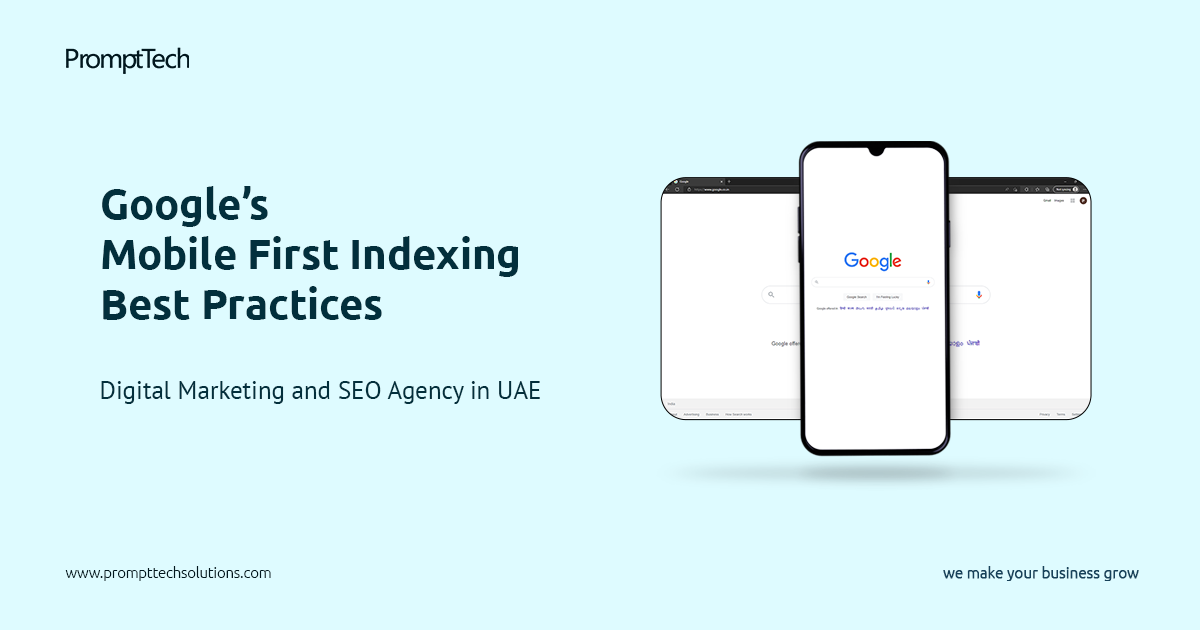 Google's mobile-first indexing has been the buzzword among SEO specialists and digital marketers for quite some time now. A few years ago Google stated that it will be using the mobile version of websites to rank and index sites. Earlier Google used the desktop version of websites for ranking and indexing purposes. But as the number of mobile users increased, Google decided to switch to Mobile versions of sites for ranking and indexing. It is a meticulous task to keep up with and modify sites especially if you are a Digital Marketing Agency in UAE.
At first, Google had made a website's mobile friendliness criteria for ranking. Later on, the mobile site's loading speed was considered a factor for ranking. Now in the latest update, Page experience will be regarded as the key factor for site ranking and indexing. Hence, website optimization, responsive website design, stability, and interactivity will all play a major role in getting your site crawled by Google bots. Is your site ready for Google's mobile-first indexing update? Let's see.
Google has recommended certain key points to ensure that your site is optimized for mobile-first indexing.
Here are a few important ones listed for you.
Make sure you are seen by the bots
In order to be visible to Google bots ensure that you use the same robot's meta tags on mobile and desktop versions of your website. In case the tags are different, the bots will fail to recognize the page. Another thing to keep in mind is to not block certain URLs with the disallow directive and also make sure that any lazy loading content is seen by Google.
Make sure both sites have the same content
Google recommends that both the desktop and mobile versions of your website maintain the same primary content. The headers of both sites must be the same. If the content on your mobile version is less when compared to your desktop site, then there are chances that you lose a significant amount of traffic. As your site is indexed and ranked solely based on your mobile version, it is important that your mobile website conveys all information about your business.
Ensure to use quality images and videos
It is advised that in order to fit the mobile screen do not reduce the image size or resolution as it will negatively affect your page's ranking. As small low quality images will not be shown on Google images and will not be considered favorable when indexed. Also, use meaningful Alt attributes for images and try to maintain the same URL addresses for better results.
In the case of videos, using the same schema descriptions for both versions of the website will prove to be beneficial. As the video indexing system will find it easier to understand the information resulting in being visible in Search.
Make sure to check your structured data
Structured data, if used, must be applied to both versions of the website. Ensure that the information shared and the URL used in the structured data is correct.
Make sure you are on top of mobile errors
Check for mobile errors on Search Console and make sure to fix them as and when they appear. Claim your Site on the Search Console and submit a sitemap to make use of the various reporting facilities for your benefit. If you are finding it difficult to manage you can always hire a Digital Marketing Agency UAE. An SEO Agency (Best SEO Agency in UAE) can help you run tests to identify errors or problems that are hindering your page from performing. They can provide you with expert solutions and feedback to improve your mobile site's performance.
In a nutshell, follow the above guidelines to ensure that your site performs well when mobile-first-indexing rolls out in full strength. Also, don't hesitate to get help from a professional agency like us. PromptTech is one of the best Digital Marketing Agencies in UAE. Our experts can provide you with top-notch solutions to stay ahead of your competition.