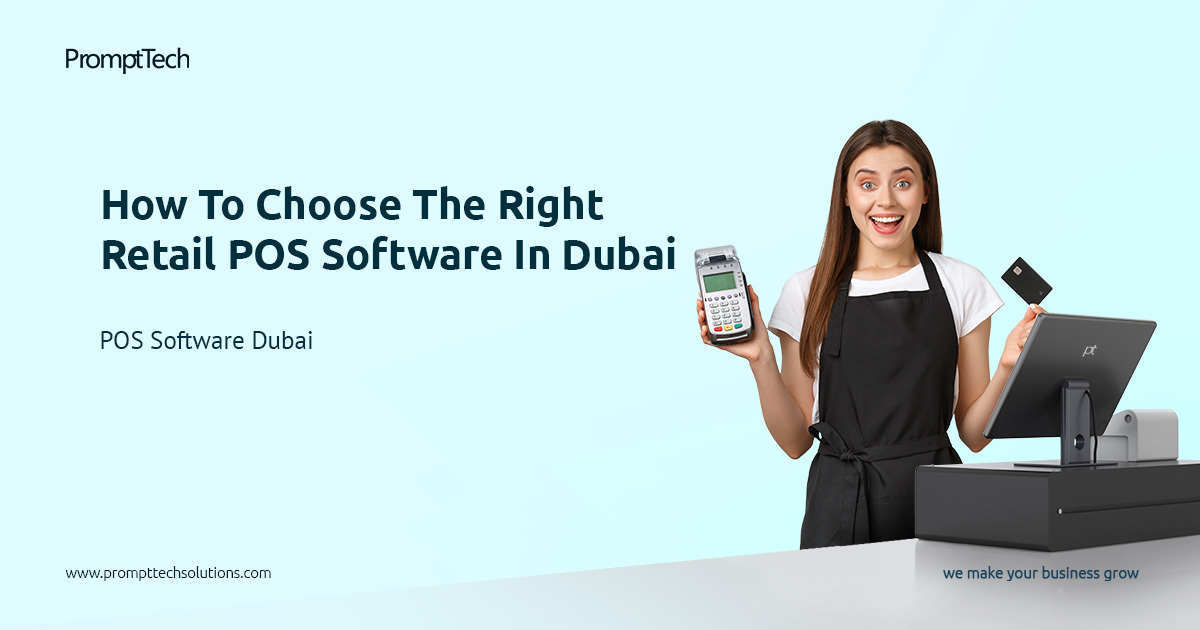 A POS Software is an integral part of any retail business. Be it a new one or an already flourished business, purchasing retail POS software in Dubai is not an easy task. One must be fully aware of their requirements and the functionalities that the retail POS Software offers. POS or Point sale systems boost your sales performance. 68% of retailers agree that upgrading businesses with new technology have proven to be positive. As there are several features like inventory management, billing, and invoicing provided by retail POS software, you can manage your business effectively.
But how to identify what's best for your business's growth? Let us guide you with a few pointers to look for when buying a POS System in UAE.
Easy to use
Invest in a system that is easy to handle on a daily basis. If you need a manual to complete different functions then it is not an ideal POS system for you. Because you cannot afford time loss during peak business hours. Hence, a user-friendly POS system will be your best choice.
Hardware
Hardware for retail software depends on the size of your business. If you are a small business your hardware requirements would be minimum say, tablets, card readers, and a cash box. But if you are a larger business you may need additional hardware such as billing terminals, barcode reader, receipt printers, and the like. Invest in hardware that is appropriate for your business functions.
Software
Software for each business can be customized based on your operation requirement. So it is important to know what specifications will help you ease your business management efforts. PromptTech can provide you with a customized POS system for retail.
Automation
POS systems generally help you reduce manual input and automate processes. A POS system that can generate reports and update inventory, order information, and the likes can be considered the best POS system for retail.
Support
When you purchase a POS system, you not only deal with the software but also with the company that provides the solutions. It is always important to make sure that the company provides customer support when you need it the most. Always opt for a POS provider who understands and can provide assistance whenever required.
Cost
Cost can be a major factor in determining the kind of POS software you would end up investing in. Consider the functions that the system offers when comparing the price. Sometimes, a provider may offer an all-in-one POS system like PromptTech. Which can prove to be more cost-effective than opting for a pre-configured package or kits.
Features
Features of your chosen POS should match your business requirement. Make sure to look for some key features such as:
Inventory management
Invoicing
Order management
Report generation
Multi-store management
There can be various additional features that a company may provide but make sure that those features align with your requirements and can help you manage your business effortlessly.
In conclusion, make sure to analyze and assess your business requirements before purchasing a POS system for your retail business. By taking the above-mentioned pointers into consideration, choose an appropriate system to run your business smoothly.
About PromptTech
PromptTech is the leading business solutions provider in UAE. We offer SMEs and large enterprises a range of services such as Web Development, Software Development, Mobile Application, Digital Marketing, and Outsourcing services. POS systems are one of our top-selling products in the UAE. Our retail POS software in Dubai is specifically tailor-made to suit your individual business needs. Our feature-rich POS is customizable and user-friendly. Get in touch with us, we are happy to help you!