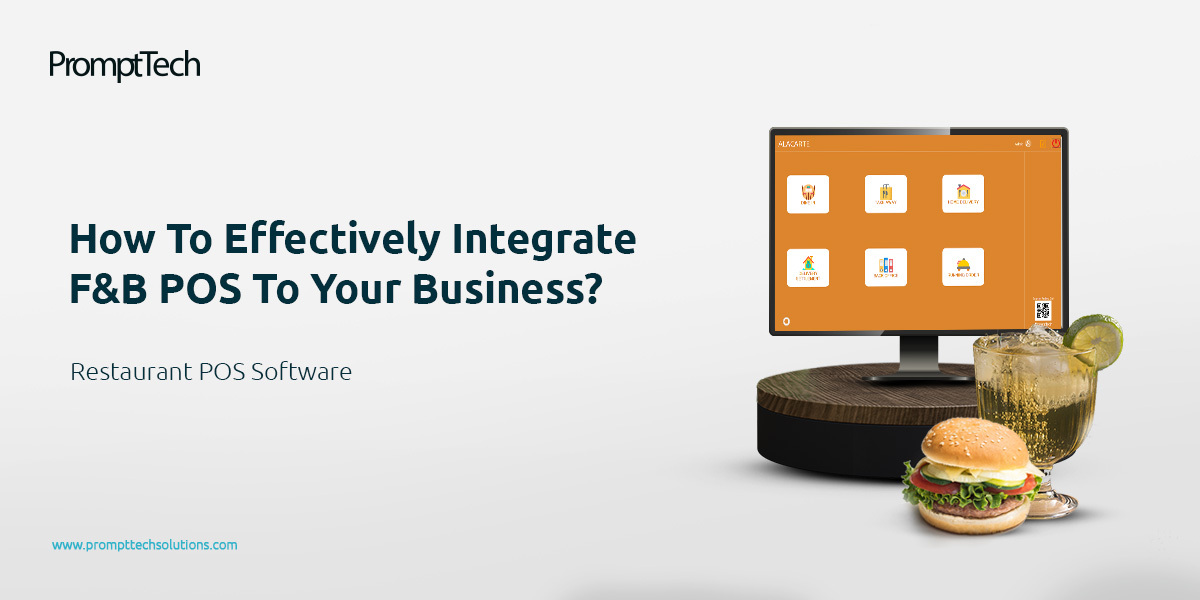 How to Effectively Integrate Restaurant POS Software to Your Business?
If you run any kind of F&B business you might be familiar with POS systems. In order to succeed in the F&B industry streamlining business operations and automating business processes is quite essential. The use of restaurant POS software will help you achieve the same. A direct connection between the important business software tools and your POS system is essential for the smooth functioning of your F&B business. This is why it is significant to understand about POS integration.
What is POS integration?
POS integration is an efficient and smooth connection between your POS system and your F&B accounting, e-commerce, payment processing and other operational platforms. This efficient integration lets your restaurant POS systems access real time information from these platforms. It enables automated tracking and record keeping and streamlines your F&B business operations.
Working of POS integration
The POS system works as a centralised location for data management. When connected to another software system the POS terminals pull in data from it to a centralised POS server. The data can be stored and retrieved by connecting the POS server to a cloud-based data management system. The flow of data is in one direction and is encrypted along the way making the whole process secure.
For instance, by seamlessly connecting the restaurant POS software with a reservation management system a restaurant can know how much the customer has spent during previous visits the instant he/she makes a reservation and can provide accurate discount cards and offers for the customer.
Thus by connecting the POS software with other important systems, information can be shared easily between them allowing you to make informed decisions and manage different aspects like loyalty programs, reservations, inventory, take-out, delivery and so on.
Type of software integration to consider for your POS software in F&B business
The best restaurant management software is well-equipped with handy features. As a F&B business owner you want to make sure that your POS system is working well with other systems in your business required for streamlining your business operations and acquiring competitive advantage. If you find any such missing feature in your existing restaurant POS software you can opt for POS integration and add new features. Here are a list of software integration to consider for your F&B business
Online Ordering
Kitchen display system
Menu management
Food delivery management
Customer support
Membership management
Barcode scanner
Tip management
How to choose the right POS integration for your F&B business?
Here are 4 steps that will help you choose the right POS integrations for your F&B business.
Understand your business needs
The first step in choosing the right POS integration is understanding your business needs. See if there are any potential opportunities and challenges your business might have. Find out the missing features in your existing restaurant POS software that your business can benefit from by adding new integrations.
Explore compatible options
Once you find out any missing feature in the existing POS system explore for integration options that will be well compatible with your business system. Find out different platforms that will provide you with the facility of integration required for your POS and narrow down to the best options available.
Ensure compatibility with the existing POS
Once you select the new software see the integration options available in it and ensure its compatibility with existing POS systems. You can now enjoy the facilities of added new features in your POS system.
Conclusion
A POS system is much more than a billing software. When integrated properly with other business tools it lets you manage your F&B business in the most efficient manner. POS integration gives you access to a lot of useful reports, accounting insights and lets you tailor the guest experience in an effective way.
PromptTech offers the best restaurant management software for your F&B business. Our feature rich POS system lets you manage all the activities such as menu management, inventory management, sales management, order processing and so much more in one place. Seamlessly integrate your business functions with customised restaurant POS software for your business with PromptTech.