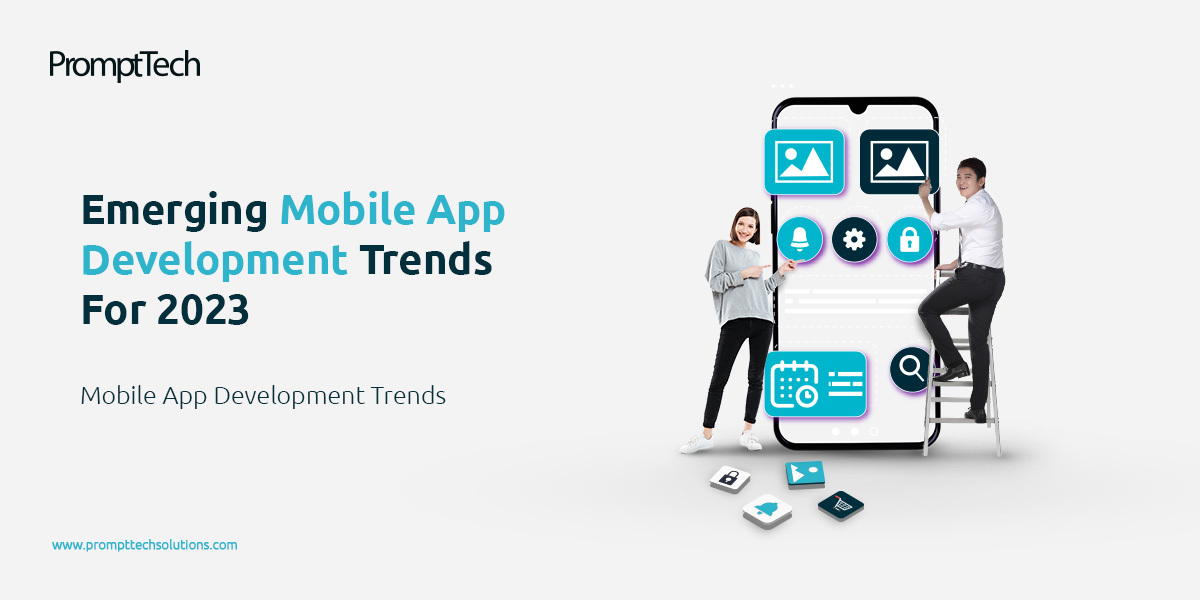 Emerging Mobile App Development Trends for 2023
Businesses are increasingly relying on mobile apps to provide the best customer experience and acquire competitive advantage. It is found that mobile users spend over 4 hours in apps and it has become an efficient way for businesses to mark their presence in the digital world and stay in top of the competition. They are not only high in demand but are also constantly evolving. By understanding the current mobile app development trends you can launch and update your mobile app for business that stands out from the crowd.
Here are 5 mobile app development trends in 2023 you need to know in order to design a remarkable app for your business
User-driven innovation
A huge shift is noted from the mechanical and robotic approach that websites and mobile apps had, to a more personalized approach. You can see that a mobile app development company considers users as the key source in driving ideas during the development process. You can communicate your customer's expectations and preferences to the developer in order to build an user friendly application for your business. An increased approach in including the suggestions of end users directly at the early stage of development can be seen for creating mobile apps that reflect the idea of apps that are built by the people for the people. 
Mobile Commerce
Quick service is expected by your customers regardless of your industrial domain. Rather than purchasing from a website, customers prefer to view and select the items via a mobile app. Mobile apps that integrate cashless payment features are preferred by most customers. It also helps in quicker checkouts and reaching a wider audience. This will increase customer engagement and boost sales which ultimately add to your business revenue.
Interactive and engaging designs
Mobile users prefer minimalist and clean designs that are attractive and make it easy to go through the content. Visually appealing designs and easy to navigate applications that provide an user friendly experience are high in demand. The solution for a more interactive mobile app is the use of features that save time and provide a seamless user experience.
UX (user experience) and UI (user interface) are therefore given more emphasis than ever. This approach ensures user satisfaction with the final product. With the assistance of a mobile app development company you can opt for designing apps with interactive and interesting icons, color schemes that are easy on the eyes and clear, neat lines that facilitate user engagement.
Top app security
With an increase in demand for mobile apps in business, top security features have become one of the mobile app development trends . ID confirmation, two-factor authentication and biometrics are some of the features that boost the usability and security of the mobile app.
Cloud-based solutions
Cloud based solutions in mobile apps are becoming increasingly popular due to the better flexibility, affordability and scalability it offers. While cloud technology is not new, the integration of its full potential with mobile apps is being highly focused.
With the use of cloud technology, apps can store huge volumes of data and carry out complex tasks on the cloud and not directly on the device. This ensures better performance, automated back-end services and serverless computing.
Summing up
Mobile apps have emerged as an opportunity for business owners to improve their interaction with customers, to keep up with the dynamic market trends and provide excellence in customer experience. By keeping up with the trends in mobile app development you can create an unique and highly functional app for your business that offers seamless user experience.
A mobile app development company can assist you with designing an app that is suitable for your business. PromptTech offers expertise in swift and efficient mobile app development solutions that are up to date with the current mobile app development trends. Transform your mobile app idea into reality with PromptTech today itself.