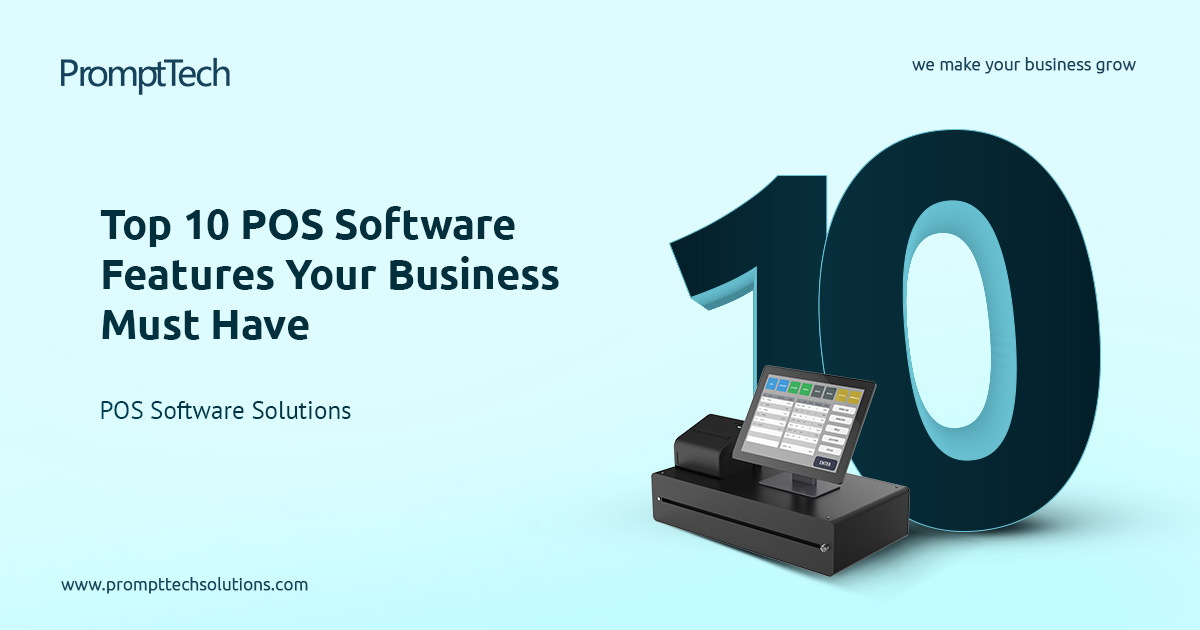 Top 10 POS Software Features Your Business Must Have
Point of sale is when the customer is at the checkout point ready to make the transaction. A point-of-sale system is the integration of hardware and software that enables that transaction to happen. The most proficient POS system software will not only make sales and payments easy but also has a lot of other strong features that will make your business better. The best POS software has some irresistible features.
Here are the top 10 POS features that every business must have in its POS software.
PAYMENT PROCESSING:
Payment processing is one of the key features of any POS system. A good POS system is able to process different modes of payment including cash, chip cards, credit cards, mobile wallets and so on.
For instance, PromptTech's POS is one of the best POS software offering a swift and simple method for payment processing along with a lot of value-added services.
INVENTORY MANAGEMENT:
Inventory management facilitates keeping track of the materials and other products. Integrating it with your sales data will aid in alerting you to replenish a stock when it is running low. A POS is primarily used in retail management for billing, inventory management and many other facilities.
REPORTING FACILITY:
In order to make the right business decisions, you will require reliable and accurate data. The best POS system has a reporting feature inbuilt into its software. This will help in giving you an idea of how much you are selling and earning.
PromptTech POS Software is a top-ranked and economical POS Software which provides access to sales reports and supports booming businesses.
RETURN MANAGEMENT:
Return and Refund across the cross channels and sales location is one of the important features of any POS system software. It can also help in capturing the reason for return, remarks, name of the salesperson and other crucial information that can further help your business.
CUSTOMER RELATIONSHIP MANAGEMENT
Customer relationship management (CRM) is the prime strategy of any profitable business. It helps in attracting, maintaining and retaining customers. The best POS system by PromptTech supports this tool. It keeps track of the purchase pattern of your customers and their preferences. This enables you to customize your marketing strategies and advertisements in a better, more efficient manner.
MANAGEMENT OF EMPLOYEES
It is a lesser-known fact that employee management is possible with a POS software system. It can be beneficial to track the productivity of your employees. It can keep track of clocking in, clocking out, level of staffing and so on.
With the help of this information better working and employees that need additional support can be identified. This will help in making decisions that will improve the performance of your employees.
PromptTech POS is an easy-to-use, fully customizable POS system that supports employee and time management.
CUSTOMER LOYALTY PROGRAMS
Customer loyalty is the willingness of a customer to buy from a company consistently. The use of punch cards to track loyalty incentives is now an old tale. POS system can work more efficiently in aiding you with this task. The best POS software will have this feature integrated into it.
GIFT CARDS
Gift cards can be used to reward your loyal customers and employees. Integrating custom gift cards into your POS software will promote your brand better and supports a stable ROI.
BULK PRODUCT IMPORTS
If your business sells multiple products a POS system that supports bulk product import will be useful for you. Bulk product import means you can enter all your product information at a time which otherwise is a lengthy process. With the help of this feature, you don't have to enter all the product information manually.
SUMMING UP
POS software has a lot of desirable features. Depending upon the type of your business and the customer experience you want to provide you can choose the right POS software with the best features. By taking advantage of them you can provide excellent customer service, save time and manage sales in the best way possible. PromptTech is a global complete business solutions provider. Our POS software are customized to meet the demands of businesses across multiple domains. Restaurant, Retail, Laundry, Salon, Boutique, Bakery and Flower shop business owners can benefit from our unique POS Solutions.