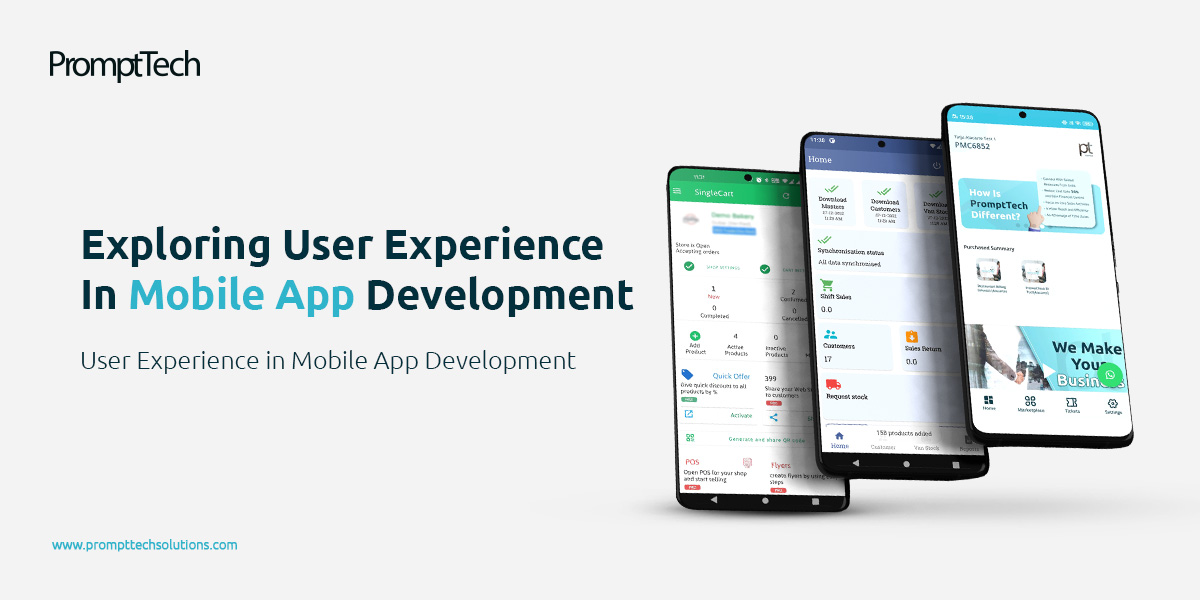 Exploring User Experience in Mobile App Development
Mobile apps have become increasingly vital in the digital landscape. They provide users with the convenience to access resources and perform tasks right at their fingertips. The continuous growth and evolution of technology will lead to more importance of mobile applications in the future. A well-designed mobile app combines great design with functionality and helps businesses to achieve long-term business goals.
User experience (UX) is one of the key aspects of mobile app development. It determines the experience a user has before, during and after using a mobile app. To keep users happy and engaged with the mobile application, designers focus on the User experience (UX) aspect of the mobile app.
What is user experience (UX)?
User experience is a concept that has been in place ever since the first product was created. But the term 'user experience' was officially coined by Donald Norman, an American researcher and author.
User experience in mobile app development involves everything that affects the perception and interaction of users. A good UX design ensures that your mobile application is intuitive, organised, and comfortable for browsing.
The quality of user experience determines the success of mobile applications. To provide users with the best experience on your mobile application, you need to have a clear understanding of who your target audience is and what their needs are. An idea about the in-app behaviour patterns of your target users will help to create a mobile app that will surpass the expectations of users.
Here are some of the best practices of User Experience design in mobile App development.
Best Practices of Mobile App UX Design
Gather demographic data of users.
Run applications on different sizes and types of devices.
Create and analyse a funnel to track where users find obstruction.
Understand various gestures that users can perform on screen.
Generate and read heat maps to understand where users tap on each screen.
Create short and easy-to-fill forms.
Choose usual and easy to recognise symbols.
Segment users into new, one-time, loyal and returning and compare their journey.
Use UI heuristics- a set of characters that will help with an intuitive user interface..
Focus on UX writing and create a more personalised copy..
Why is User Experience in Mobile App Development Important?
User experience determines how usable, engaging and functional your mobile application is. It is a crucial factor that decides the success of the mobile app. A better user experience enables users to seamlessly and happily interact with the mobile application. User experience in mobile app development ensures customer satisfaction and makes the interface as intuitive as possible.
Some of the benefits mobile app user experience can provide for your business are explained below-
Enhanced user-engagement
User engagement is crucial for the success of any mobile application. Thoughtfully crafted UX facilities increase user engagement by ensuring that every interaction with the app is intuitive, meaningful and responsive. Users will spend more time on the mobile app leading to positive word of mouth.
Boosting customer satisfaction
Customer satisfaction is the ultimate goal of every mobile app developer. Better customer experience is the key to boosting customer satisfaction. User experience in mobile app development involves considering the needs, preferences and pain points of customers to create an app that solves problems and adds value for the customers. When users feel satisfied with your mobile app they are more likely to become loyal customers.
Enhanced app reputation & Brand Image
Users rely on customer reviews and ratings to make informed decisions regarding which mobile app to download and use. A well-designed and user-friendly mobile app encourages users to leave positive feedback driving organic growth and expanding the user base. Therefore, better user experience leads to enhanced app reputation and brand image of your business.
Improves Retention
A seamless user experience is crucial for keeping the users engaged in your mobile app. Without it, users will feel frustrated and quickly abandon the app. Getting tangled up in complex navigation processes and unresponsive designs might lead them to leave negative feedback which affects the app's reputation and reduces traffic.
Conclusion
User experience in mobile app development is significant. In today's highly competitive digital world, embracing the significance of user experience is the key to unlocking the total potential of mobile apps. A seamless user experience leads to better user engagement and satisfaction, improves retention, and enhances the brand reputation.
Our expertise lies in creating impactful and user-friendly mobile apps tailored to meet your specific business requirements. Provide a seamless customer experience and elevate your customer engagement with PromptTech's exceptional mobile app development solutions.