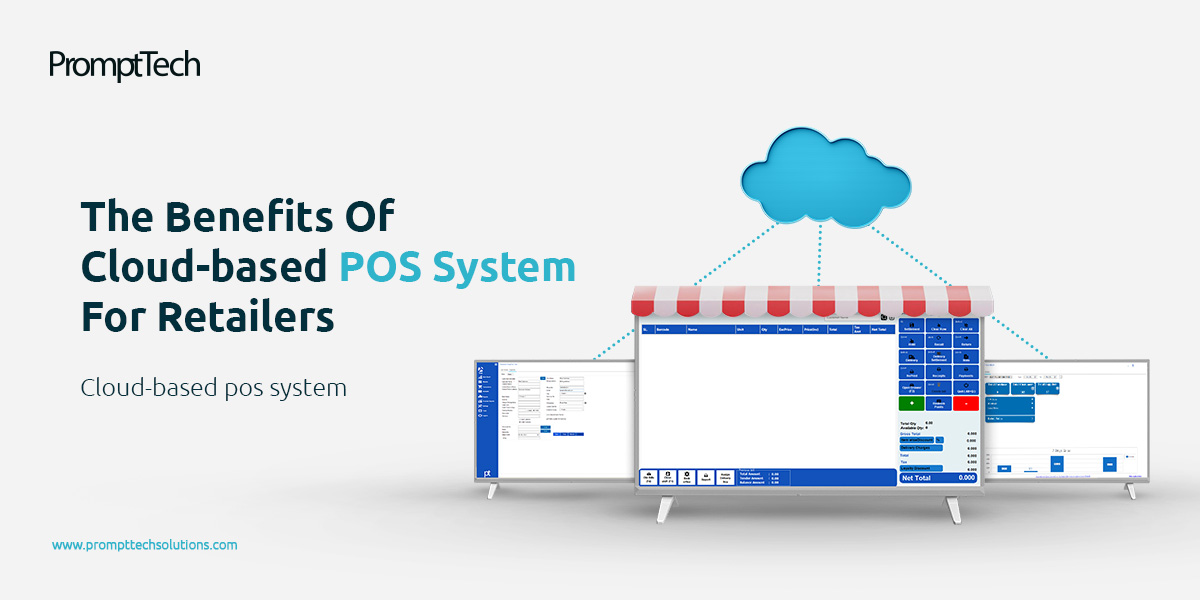 The Benefits Of Cloud-based POS System For Retailers
In today's digital age, retailers need a point of sale (POS) system to meet the market's demands. That's where cloud-based POS systems come in. Cloud-based POS systems are designed to be flexible, scalable, and easy to use, making them an ideal choice for retailers of all sizes.
Firstly, let's look at the global digital payment market, which is rising. According to recent research from markets and markets, the market size in terms of revenue is estimated to be $88.1 billion in 2021 and expected to reach $180.2 billion by the end of 2026, exhibiting a compound annual growth rate (CAGR) of 15.4%. The prevalence of smartphones, which makes it easier for mobile commerce to expand, the rise of eCommerce sales, and the expansion of the internet all contribute to this growth. As a result, it's becoming increasingly important for retailers to have a POS system that can support a variety of payment methods, including digital payments.
A cloud-based POS system can help retailers in many ways, such as making it easier to track sales, manage inventory, and keep track of customer information. For instance, a study found that retailers who use a POS system saw an average 20% increase in sales. It indicates that having a POS system can positively impact a retailer's bottom line. Furthermore, a survey by Vend found that 63% of retailers who use a cloud-based POS system report that it has improved their overall operations. It includes improvements in inventory management, sales tracking, and customer data management.
As the retail industry keeps changing, businesses constantly look for ways to make their operations more efficient and boost their bottom line. In the past few years, cloud-based point of sale (POS) systems have become increasingly popular. In this blog post, we'll discuss the benefits of using a cloud-based POS system for retailers, including the most recent statistics supporting their use.
First, let's define what a cloud-based POS system is. Simply put, it's a software program hosted on remote servers (i.e., in the cloud) rather than on a local computer or server. Retailers can use a desktop computer, laptop, tablet, or smartphone with an internet connection to access their POS system.
Now, let's dive into the benefits of using a cloud-based POS system:
Accessibility
Cloud-based POS systems can be accessed from anywhere with an internet connection, while connected devices can only access data stored on legacy POS systems. The accessibility of cloud-based POS systems allows employees to be more productive, enables managers to receive real-time updates on inventory and other transactions, and gives owners immediate visibility of all their storefronts.
Customer experience
Customers can schedule appointments, check order statuses, and receive notifications regarding their orders, giving them more control over their experience with a brand. Furthermore, cloud-based POS systems streamline customer transactional processes by offering multiple payment options and automatically sending invoices.
Affordability
While legacy systems require high upfront and ongoing costs for hardware and software, cloud-based systems operate on a subscription basis that is transparent and straightforward. Cloud-based systems require no startup or licensing fees and can be used on various modern devices, eliminating the need to purchase new hardware. Software maintenance is covered in the monthly service charge relative to the amount of business a company does.
Integration
Cloud-based POS systems are often easier to integrate with other business software than traditional systems. It means that retailers can seamlessly integrate their POS system with their accounting software, inventory management software, and other business tools.
Scalability
Cloud-based POS systems are highly scalable, meaning that retailers can easily add or remove features as their business grows and evolves. It allows them to stay agile and responsive to changing market conditions and customer demands.
Frequent updates and upgrades
Legacy providers offer updates less frequently, often at a cost to the user. In contrast, cloud-based providers continually improve and upgrade their software, providing regular updates included in the subscription fee. They are also responsible for the upkeep of their software and servers, ensuring that the system always functions properly.
Enhanced security
With powerful servers explicitly designed to store data, data loss is impossible with a properly functioning cloud-based system. Additionally, cloud-based systems offer advanced security features to protect against data theft. On the other hand, legacy providers provide limited security features that can leave data vulnerable to theft.
Wrapping up
The benefits of using a cloud-based POS system are many and varied. From increased accessibility and enhanced customer experience to affordable scalability, regular updates and upgrades, and increased security, the advantages of a cloud-based POS system far outweigh those of a legacy POS system. These systems make it easy for businesses to access and manage data from anywhere, streamline processes, increase productivity, and keep things safe. As technology advances, it's clear that cloud-based POS systems will become an even more integral part of the way we do business, and those who embrace this technology will reap the rewards.