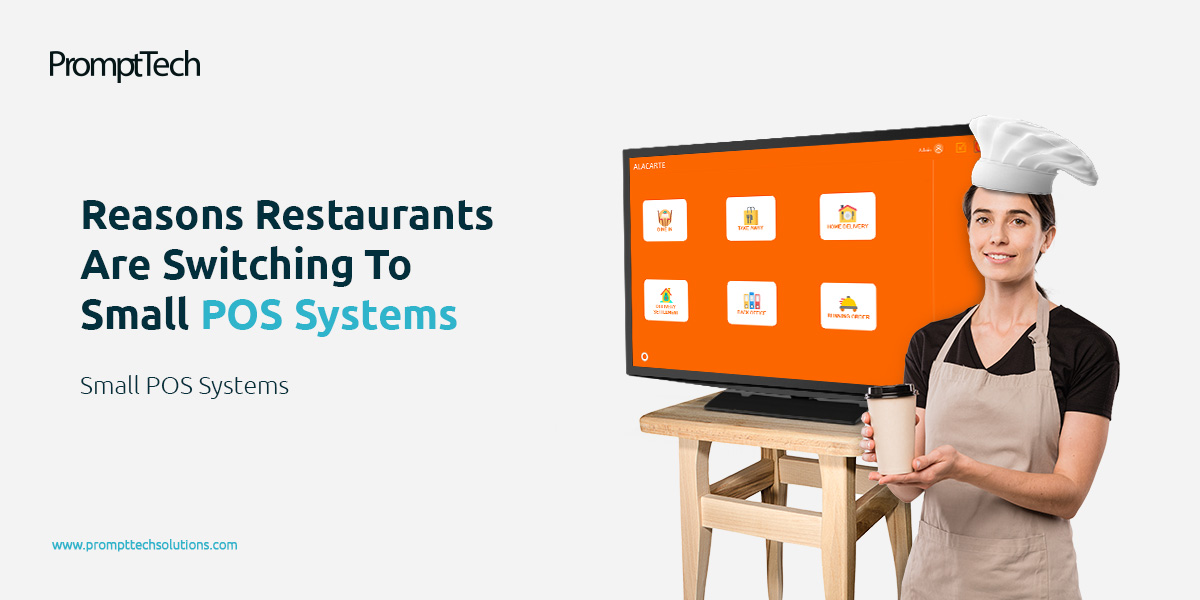 Reasons Restaurants Are Switching To Small POS Systems
The hustle and bustle of a restaurant needs a systematic management routine. A POS system can effectively assist in putting that routine in place. Restaurants today have to transform their business process and automate them to enhance efficiency and quality of service. Better customer experience leads to increased footfall and provides higher ROI for your restaurant. A POS system can ease this process by placing all your business data on a single platform. Many restaurants have already implemented these steps to upscale their business.
Businesses today have moved on from traditional POS to small POS systems. Traditional POS systems can no doubt help you streamline your business, but a small POS would be more compact, handy, and easy to use. If you are a growing enterprise, this is the best POS system for small businesses like yours. They are efficient, time-saving, and cost-effective. 
Reasons to switch to a small POS system
Portable Systems – Traditional POS systems for restaurants, are way bulkier and consumes more space. Whereas, small POS systems are compact and portable. For a small business with a limited store area, it is difficult to accommodate a traditional POS system hence a small POS system is preferred. Smaller Pos systems can be mounted on the wall or placed on a small counter. Some POS systems offer accessibility to POS via mobile devices. Considering these benefits many fast food joints and smaller restaurants have already switched to small POS systems.
Faster Operations – Small POS systems process faster when compared to a traditional POS system. These compact systems can offer a wide range of features yet process them quickly. They have multiple payment options enabled which makes the billing procedure easy for you and your customers. A good customer experience is a combination of events that takes place from the time a customer enters your store till the time they leave. Faster settlements can add to their experience and you can win a loyal customer.
Greater Control Over Operations – With POS system software for restaurants you can easily streamline your operations and fast-track processes. You can integrate kitchen display systems and manage multiple KOTs with a single POS system. The kitchen display system will simplify your communication with staff as every order detail, its status will be displayed on the screen. Also, a connected KOT will print the orders directly in the kitchen reducing errors. Another benefit entrepreneurs get is the order-taking app. For instance, the PromptTech Restaurant POS software system for restaurants also provides an order-taking app that can assist your waiters in taking orders instantly.
Cost-Effective Option – The traditional POS system software for restaurants is priced high because of its hardware and software requirements. Whereas small POS systems are budget-friendly because they are compact and have lesser hardware requirements. Training staff can also get easier on small POS systems as the interface is simpler and user-friendly. Upgrading your POS systems to a smaller POS can be a wise move. As a small growing enterprise, you can focus your time on other areas of importance because all your business process has been automated.
In a nutshell,
Small POS systems can simplify your daily restaurant operations. You can speed up the entire order-taking process and send them directly to the kitchen. This swift service will help you get more customers as tables will be freed quickly for new customers.
For small businesses planning to upgrade their existing POS system or get a new one PromptTech's Restaurant POS – Alacarte mini can be a great option. It is an all-in-one POS system that is compact, simple, and handy. This POS system can help you manage everything right from order taking to menu management to inventory to reports. Get everything you need for effective management of your restaurant business in a single small POS system.