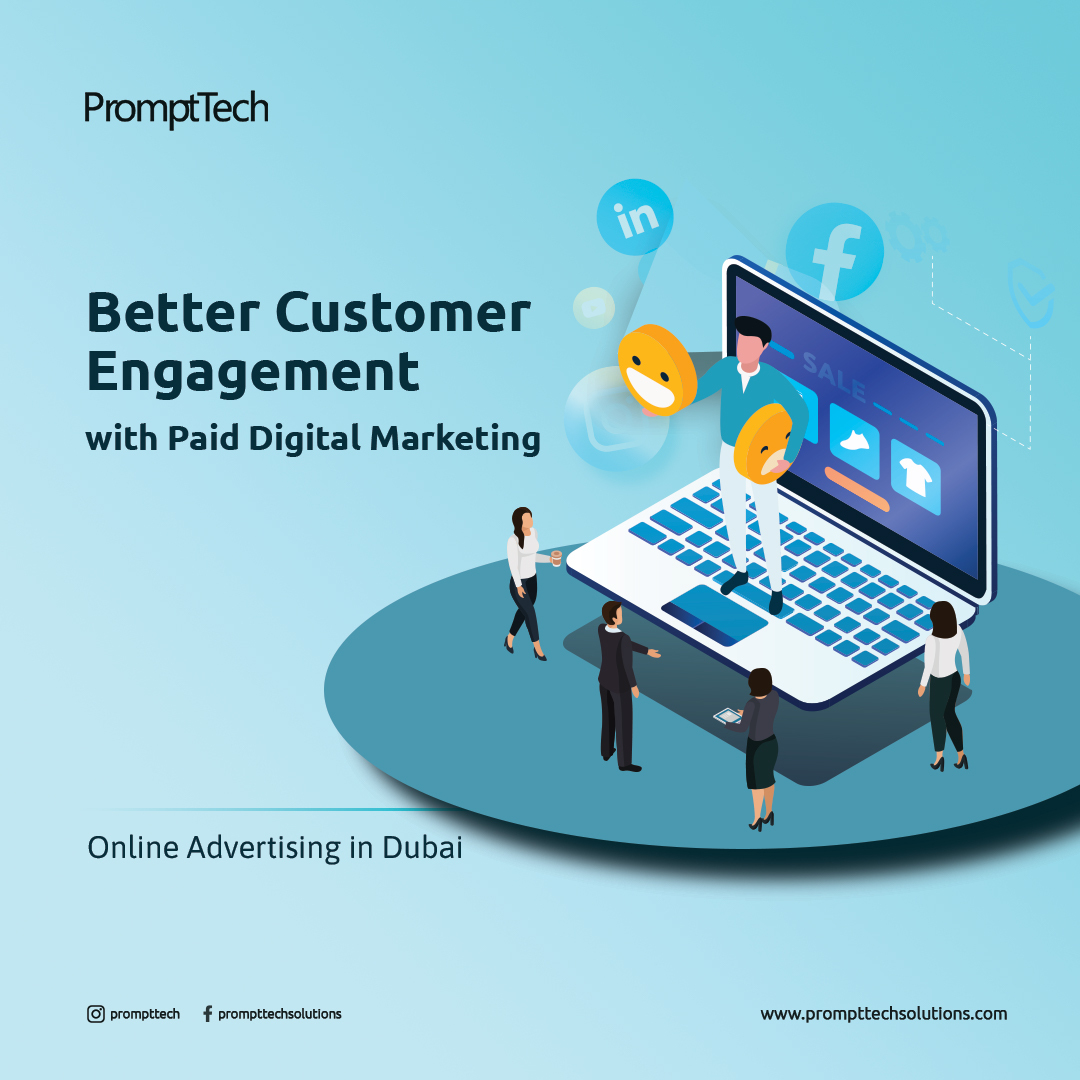 Emerging businesses seeking to make an online presence find themselves at an impasse – they might require quick results but organic content takes a lot of time and resources to produce effective ROI. Expanding to more customers and promoting their products and services is an immediate concern; in such circumstances, gaining visibility is made possible through paid advertising. Let us look into the fine points of paid advertising to understand this better.
How it works
Paid advertising is just that – companies pay for advertisements to get published on various platforms. This is also known as pay-per-click advertising – companies pay the online platforms for each user that clicks the ad. Competition in digital marketing is at an all-time high as online platforms monetize their user data through paid advertising. Google, Facebook, LinkedIn, Twitter – paid advertisements on these online platforms have dramatically increased over the years as they look to derive more revenue from companies bidding for ad spaces.
Benefits of Paid Advertising
Organic content is effective in the long run, but for short-term campaigns, generating qualified leads quickly can be achieved with Online Advertising in Dubai. The potential for gaining quality leads is considerably higher with paid advertising.
Quantifiable Campaigns
When you advertise through conventional advertising channels like billboards or TV ads, the number of users who view your ad and undergo conversion cannot be quantified precisely. And so the ROI through these channels cannot be calculated precisely. For online paid advertising, you have a range of tools that integrate with the ad that allows you to keep track of each step of the ad campaign. Many online platforms themselves offer metrics on user demographics so companies can optimize their campaign budget for maximum ROI.
Specific targeting
Paid ads can target a specific set of users who are more likely to react to the ad and become potential customers. Identifying the right user demographic figures more prominently than designing the ad that suits those users. Online advertising platforms can provide detailed and anonymous user data in abundance – user interests, profession, geographic location. All of these user data can be used to optimize paid ads to increase lead generation and gain more customers quickly.
Types of Paid Advertising
Paid advertising can be employed on multiple levels to generate more leads or enhance brand image online. These are some of the tried-and-tested strategies for Online Advertising in Dubai prevalent today.
Search Engine Marketing (SEM)
The front page of search engine results is where users stick around. Less than 1% of users actually move beyond the first page. Search engines grow more resilient to organic search engine optimization (SEO) techniques each day, but bidding through search engines with Online Advertising in Dubai will allow you to bypass the competition and get straight to the top. The search engines get paid for each click of your ad that leads to your landing page.
Once the bids are placed for certain keywords, users searching for these keywords would find your ad on top of organic search results. This is a good strategy to gain valuable visibility in a competitive industry. And if the search is limited to a specific location, it would target local audiences.
Social Media Marketing (SMM)
The advertising goals and strategy used on social media platforms is different from that of other channels. Companies can analyze user interests to optimize content for specific user demographics. They may opt for increasing their visibility or focus on more engagement. Either way, these social media platforms offer a diverse range of users and metrics to analyze user data to formulate effective ad campaigns.
Display Marketing
Just like banner ads in traditional marketing, this involves displaying ad banners on websites. A lot of websites and news outlets allow you to run ads on their pages – this is one of their main sources of revenue. Successful user engagement is assured with this form of advertising – the publishing platforms have reliable user traffic that can be analyzed to deliver the right ad content.
Retargeting & Remarketing
Paid ads can continue to draw in potential customers through retargeting. A user who clicks the ad and goes to the landing page may interact with the content. With the help of Online Advertising in Dubai, customers visiting the landing page once are repeatedly targeted with relevant ads that increase their interest in your products and services and result in successful conversions.
Native Advertising
These ads match the design of the platform they are posted on and offer a similar user experience to non-paid content. They are more personalized to fit the design and content requirements of the platform, so they appear less like an ad to users scrolling through their feed.
The downside is that the content must be tailored to specifically suit the target audience – native ads are less prominent and increasing user engagement requires detailed metrics on what works best for distinct user demographics.
Major Avenues for Paid Advertising
Some of the leading online channels for paid advertising include search engine giants like Google and Bing, social media platforms like Facebook, Twitter and LinkedIn. They mainly use Pay-Per-Click models to drive traffic.
Google Ads
As the most popular online advertising platform, Google Ads lets you advertise on Google products like its search engine, YouTube, along with the websites and applications linked with Google products. It collects data on users with help from machine learning tools and then matches keywords in search queries to the ads. The quality of the ad as well as the landing page is reviewed by Google to rank them. Google Ads Services in Dubai can help firms design engaging ad content and responsive landing pages to increase user traffic.
Microsoft Advertising
This is more or less similar to Google Ads and offers ad spaces on Bing, MSN, and Yahoo search engine results and other associated apps. The scope of visibility is less limited than on Google as it is less preferred by many companies. Consequently, its bids are relatively less expensive. Depending on the targeted country or industry, advertising with Bing can be quite profitable.
Facebook Ads
The social media giant provides extensive advertising potential across its apps – Facebook, Messenger, and Instagram. The large concentration of users on these platforms provides extensive leeway to target specific demographics. Users can be targeted based on their interests and liked pages, and even shared interests with their friends.
Twitter Ads
Users on Twitter can be targeted based on their keywords and interests as well as their recent interactions and engagements with your brand. The character limit of tweets requires concise, engaging content to attract users.
LinkedIn Ads
Advertising on LinkedIn is targeted at professionals – users are targeted based on job title, company, industry, and skill-set. Since users on LinkedIn are not actively seeking products on the platform, you would be looking to maximize visibility rather than directly engage the audience.
Reliable Digital Marketing Strategies
Successful digital marketing campaigns involve fine-tuning many strategies to get measurable results. PromptTech Solutions is your trusted partner in all digital marketing services to grow your online presence. As one of the leading Google Adwords Company in Dubai, we help small and medium businesses build their brand from the ground up and get to more customers in a short time.