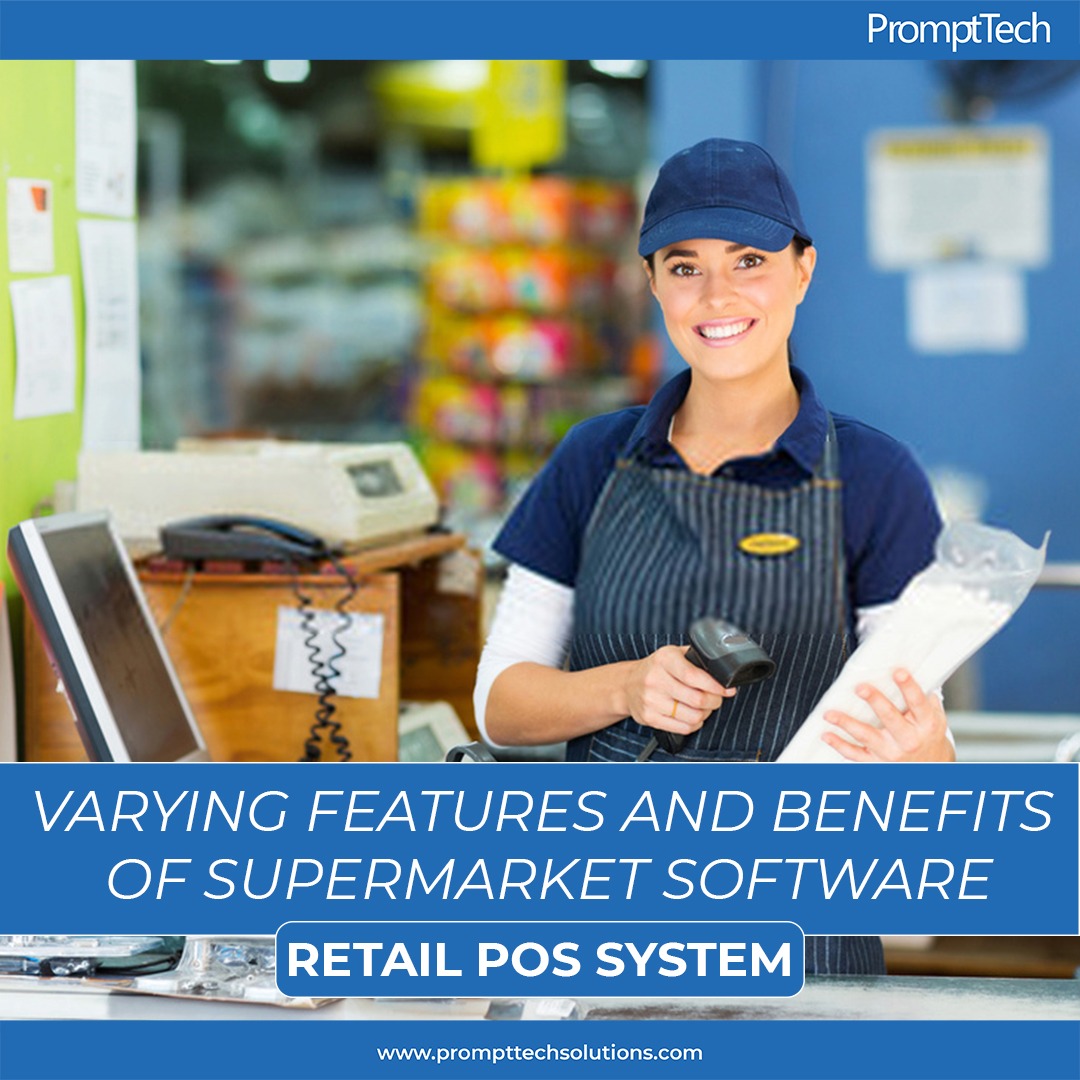 For supermarkets, precise inventory particulars are vital since most of the products get easily spoiled, with lesser shelf lives. Whether there is a limited stock of products sold in greater quantities or even abundant stock of products sold in lesser quantities, both will bring about a loss of sales. So this implies that correctly ordered products need to be maintained so that products need not be stocked or ordered in abundance since it doesn't muddle up the path of seizing greater opportunities.
Grocery stores have a mixup of high-volume sales and an inventory comprising mostly short-lived items. And most grocery stores are automated to an extent, even a few of the medium-sized businesses are bound to POS. For a majority of the grocery stores, the 3 key problems are Point of Sales, payroll and inventory management. And a lot of modernised shops have started to focus on CRM or customer relationship management.
Day after day, grocery stores may accept manifold deliveries from manifold vendors. Here, a streamlined and precise receiving solution allows storekeepers to authenticate the latest items and enter them for instant sale. And supermarkets, as well as grocery stores, typically have more than one checkout spot. When the majority of products come with UPC barcodes, certain products like produce, are mostly typed in by the cashier.
The general ledger and the amount owed by the store to their supplier are definitive. For the majority of stores, this amount is definitive, whereas others have running accounts for its frequenters. It's on the premises that the majority of grocery POS is deployed. Even though SaaS preferences are obtainable, in general, there is a lesser advantage for POS systems based on cloud, owing to the investment needed in POS terminals.
Supermarket Software- Core Features
Code lookup: Bulk products, like agricultural & other natural products, are mostly untagged. To know the right code, cashiers require a look-up function. Sophisticated systems comprise an image and its details and will immediately add the code into the Point of sales system.
Sales on account: Unusual to an increasing extent, certain supermarkets and grocery stores keep open accounts for regular shoppers. The POS for the supermarket needs to revise the accounts and the systems need to make bills ready as needed.
Sell per unit weight: During checking out, the program needs to merge with scales. The cashier enters the product's code and then determines its weight. The system computes the total amount and prints the total amount, price and weight of each product in the sales slip.
Suspending transaction: The supermarket software must be able to put off a transaction and proceed to another one. Subsequently, the original transaction can be modified, corrected, or even cancelled.
Staff auditing: One among the major reports is staff auditing, which examines the profitability besides transactions by the staff. This aids to safeguard the bottom line and aids to fend off inventory shrinkage through making staff liable.
Check processing: The system needs to track the shoppers having valid check-cashing benefits. The system needs to carry out genuine scrutiny at the Point of Sales station.
ID Scanning: Whether the supermarket retails restricted products such as cigarettes, liquor or medicines, the app needs to scan and maintain ID details for shoppers and check that the ID format is right or not. But, it's quite insensible to verify the IDs against government databases.
UPC code catalogue: Creating an inventory from the very beginning onwards could take a couple of weeks. The inventory system needs to encompass a UPC code catalogue with details for common products to save inventory creation time.
Reporting perishable goods: Grocery stores retail easily spoiled products. So the expiry dates need to be tracked, perished inventory needs to be gathered and discarded and the process recorded the right way.
Self checkout: Certain shops let shoppers scan and make self checkouts. Paying for their own purchases need to be completely combined with the security system.
Minor aged staff management: The software needs to keep a tab of the staff's day to day plans and keep a tab of the time worked. The POS software needs to alert the supervisors, provided the scheduled time would result in a violation. The system needs to generate any needed compliance reports.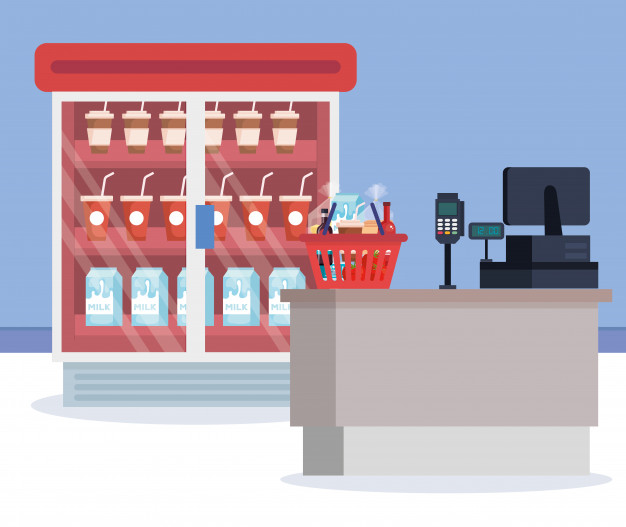 Security system integration: The system needs to combine the security system with the POS for supermarkets, connecting the transaction records to the security recordings.
Customer loyalty programs: To further strengthen customer relations, a lot of shops nowadays have customer loyalty programs. The POS software needs to keep a tab of sales history and track loyalty program points given and retrieved.
Bottle deposit tracking: The system should keep tabs on deposits and bottle sales and create adherence reports.
Coupon redemption: During billing, the software should process all the coupons. Modern POS software will authenticate the coupon against products bought and will compute the percentage-off amounts.
Coupon printing: During billing, a lot of cashiers give coupons. Modern POS software creates coupons depending on the products bought.
Inventory receiving: The supermarket software needs to create reports on inventory received by the supplier as needed. It must be able to transact advance shipment alerts to quicken the receiving process.
Promotional pricing: The software needs to permit the sale and promotional pricing. This should vary in the POS and inventory on its own at a particular date and time if required.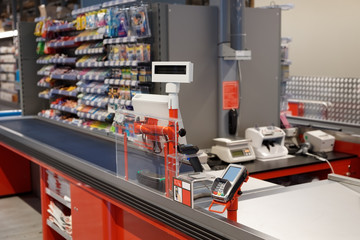 Advantages of Supermarket Software
These are a few of the benefits of supermarket software for your grocery store/supermarket. They are:
Efficiency: The solution aids in making ordering and stocking processes more efficient as well as make organising more easy and faster. Besides that, both retail POS software and CRM features of the solution will aid you to be much well organised when handling shoppers, whilst accounts payable and receivables can aid make cash management easy.
Organisation: Another advantage of this supermarket POS software is that it will aid your supermarket to remain organised in various means, typically via inventory creation and tracking. You can also benefit from the essential functionalities that are vital for any grocery store/supermarket, such as staff management, scheduling, CRM, accounts payable, accounts receivable and more.
Increase of Payment Methods: A supermarket software also embraces the ability to take in various payment modes like Near Field Communication payments, Europay, MasterCard, Visa chip cards and all sorts of mobile wallets. Such great features of the software let the shoppers ease payment style. You can boost your profit besides great customer satisfaction.
Freshness: Through keeping a tab on when your goods are about to perish, the POS solution can aid you to monitor when you should refill your products, discount specific products and find the items from which vendors have a chance of spoiling prematurely.
About PromptTech Solutions
Based in Dubai, PromptTech Solutions specialises in custom software development, website development, digital marketing, mobile app development and outsourcing. Their strength is a team of seasoned and out-of-the-box thinking software professionals, web developers, digital marketing specialists who make sure that each of the projects is unique and ensure customer satisfaction in every sense. PromptTech assumes that the sensible usage of technology, coupled with an exceptional design has the power to lower complexity, link people and render valuable insights, each of which aids an organisation to succeed in the long run.