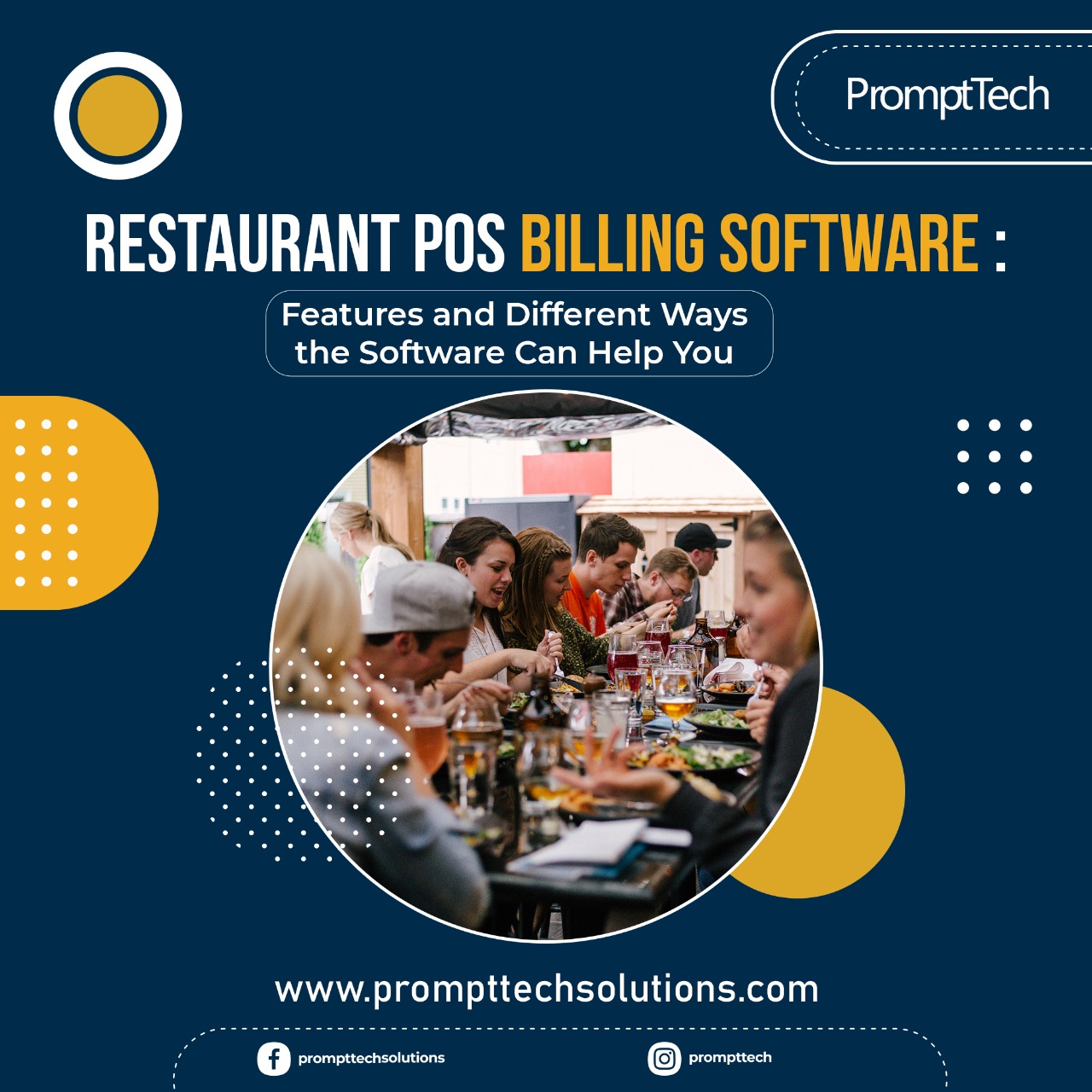 Heading up a restaurant business can be an intimidating task. However, when you use the appropriate and perfect fit software, running your restaurant business can become a whole lot easier and smooth. And the rise of restaurant POS billing software has made life easier for people in the restaurant business.
This software doesn't just make billing transactions effortless and faster but also aids you in handling many things like managing online orders and inventory, automating the management processes of your business and in keeping tabs on the sales and performance of your restaurant etc.
Features of Restaurant POS Billing Software
For a restaurant POS software to operate well, it requires specific vital features that go a long way in making it thrive. As you've got an idea of what a Restaurant POS billing software is, then below are a few key features that make it essential for all restaurants.
Reports
The restaurant POS billing software makes certain the exclusion of more manual intervention. This applies to the reports feature of billing software to track the progress of your restaurant business too. You can view the report on the dashboard, and track your business growth. This also helps bring down the time you would otherwise need to spend.
Order Management
Restaurant owners don't like checking devices to find the order statuses across channels. This is not just hard to manage but also less convenient as well. Using the present POS systems and technology, restaurateurs can manage the orders made via the restaurant POS. This is not the case with the old billing software. It was able to manage the ticketing, receipts, printing and billing alone. However, with the restaurant POS, you can manage all the online bookings in just one software.
Many Payment Modes
Different from restaurants having a lack of technology, the restaurant POS lets many payment methods which makes it not just convenient for you but your customers too. With the inception of payment applications, this is a lot more important.
Since customers choose to pay using their desirable payment methods, your restaurant POS billing software needs to be adaptable enough to allow that. Therefore if it's cash, card or even mixed, your restaurant POS needs to be able to handle all these.
Comprehensive Management
The software doesn't just manage the billing transactions of your restaurant but also manages online orders, track business progress and many more just via one software.
Round the Clock Support
Although your business runs within a fixed time frame, the restaurant POS billing software can conduct conversations with customers via chatbot to pass on vital information to them. You can offer 24*7 support or else can be at the customers' disposal for some more time than the set working time limit of your restaurant.
How Restaurant POS billing software can come to the aid of your restaurant business?
The peculiar features of restaurant software have their own benefit which can step up our business. if you're having a small business or
have gained traction among its clients, then this software is certain to aid your business in more ways than just one.
Below are some of the ways the software can aid you:
Inventory Management Efficiency
For a Restaurateur or staff, one of the most dreadful duties is inventory management. With rising competition and the necessity to be continually great at customer service, inventory management can make all the difference as well.
With the restaurant POS software, you can keep tabs on the goods available in-store and notify when the goods are nearly over, past a particular point. The individual responsible for inventory tracking should only have to note down what is required and get them stocked promptly, making certain that there is never a scarcity.
Easy to Track Business Performance
Reports are vital to running a business, to determine the flaws and areas of improvement. The restaurant POS can aid you to track sales concerning the items bought, the food prices, foods often bought, total customers who drop by your restaurant, total tables filled up, labor costs and more. These things go a long way to track the way your business performs and the profits you've gained.
Access Anytime Anywhere!
With restaurant POS billing software you no longer have to sit behind a desk of your business outlet. The best thing with restaurant POS billing software is that you can access it wherever you are, at any point in time. Provided that you have a good internet connection, you can access the systems anywhere you are! The software is easy to install and works on tablets, desktops and laptops. After having integrated the software into your device, you're good to go and can work from a faraway place.
Takeaway and Delivery Management
For both delivery and takeaway orders, even though there is no such thing as filled up tables or customers getting inside, the sales should be tracked irrespective. Though restaurant POS is normally efficient when it comes to controlling the flock of customers showing up to dine in, the software also has a feature to manage and track delivery and takeaway.
Efficiency in Orders Placed Online
Ordering has turned out to be a more coveted option for most of them in contrast to dining inside an eatery. Hectic schedules and the rising traffic keep people glued to their rooms, savoring delicious dishes that they receive at their doorstep. The restaurant POS can have the whole menu uploaded online, besides the option to manage orders online as well as the deliveries, with utmost speed and efficiency.
Managing Many Outlets
Considering larger restaurants with multiple outlets, to be there in all outlets is something impossible for the Restaurateur. The restaurant POS can track the business performance and happenings of all outlets, letting you be virtually there! You can oversee the way the menu looks, the financial gain, and the standard of the dishes and services. Moreover, you can also ensure that nothing occurs at any of the restaurants without your knowledge/permission.
Factoring in the features and benefits, it's only evident why a Restaurant POS billing software is essential for every restaurant. And the best part is that businesses that already use software, aiding them in many ways can also get it updated once in a while to get all the features included.
Thus, if you're not using the software at the moment, its' high time to get one. Whereas if you already have one, then ask yourselves some of these questions, like:
Are the operations handled promptly?
Are there any problems being faced at the time of payment?
Is there a remarkable rise in the order preparations than that of the past?
Is tracking of performance free from errors and allows an improvement in your business functioning?
Asking yourself questions above can go a long way in making the best decision.
About PromptTech Solutions
From the year 2014, PromptTech Solutions has been rendering custom digital solutions to SMEs with varying requirements. The company specializes in custom software development, web development, mobile app development, digital marketing, outsourcing and mobile app development. PromptTech is equipped with the most well-qualified and seasoned professionals to render the best bespoke solutions.